From exploring destinations across the country to earning an impressive paycheck to making a positive impact, there are infinite perks to a career as a travel nurse or allied health traveler. On the other hand, constant travel comes at a price. But what does your healthcare travel agency pay for and what comes out of your own pocket? Let's find out more about hidden travel costs.
Agency-Covered vs Out-of-Pocket Healthcare Travel Costs
Agency-covered healthcare travel costs
Constant travel adds up, and quickly. To help with the expenses, allied health and travel nurse staffing companies (like Fusion Medical Staffing!) will often pay for certain aspects of your travel journey. These are things typically covered by your travel agency in the form of stipends or per diems.
Temporary housing
When it comes to finding temporary lodging for an allied health or travel nursing assignment, you have two options. You could ask your healthcare staffing company to set you up or you can accept a tax-free housing stipend. Either way, the cost is covered.
Related: Housing Stipend vs Agency-Provided Housing: What's Right for You?
If you choose to have your agency hook you up with your new digs, you don't have to worry about any of the financial details. The deposit, rent, utilities, and fees are all paid for you behind-the-scenes. All you have to do is move in.
Maybe you opt for the tax-free housing stipend instead. In that case, you're in the pilot's seat and get to decide where you'll lay your head at night. From extended-stay hotels to Airbnbs to rental properties, your lodging options are plentiful.
But that leads to the question: how much money do you get if you accept a housing stipend? The amount of an allied health or travel nurse housing stipend differs depending on the cost of living where you're working. If you're traveling to a more expensive city, like New York City, you may receive a higher balance. On the other hand, if you're traveling to a less expensive city, like Omaha, the stipend amount may be less.
Regardless of what housing option you go for, it's comforting to know the cost of rent won't come out of your wallet. That way, you can spend less time stressing about money and more time exploring your new destination!
Meals
You already know healthy snacks and meals fuel your body and mind. But you also know that it's not cheap. That's why many allied health and travel nursing staffing companies offer travelers a weekly meal per diem.
Per diems are payments provided to healthcare travelers to cover meals while on an assignment. This helps offset the cost of meals while traveling and offers more flexibility with your consumption. Whether you're a self-proclaimed foodie who loves to take the spotlight in the kitchen or someone who would rather splurge on beautiful culinary creations, the meal per diems have you covered.
Just like the housing stipend amount, how much you receive for meals per diems varies depending on your employer and travel destination. For Fusion Medical Staffing travelers, you receive a weekly meal per diem starting from the first day of your travel job until the last day of your assignment. All the per diem details are outlined in your allied health or travel nursing contract so you'll know exactly what to expect before you sign.
Parking
As a travel nurse or allied health travel professional, you may find yourself in a pickle when it comes to parking at the hospital or medical facility where you're working. While every facility is unique, there are several hospitals that may charge employees for parking. Luckily, there's a parking per diem for that.
A parking per diem helps cover the cost of a parking pass, making it easier for you to get to and from work every day. The amount is usually a flat rate for each night you're away from home but may differ based on where you are.
Reimbursable travel expenses
In addition to agency-covered costs, travel nurses and allied health professionals may also be eligible to reimburse some travel expenses accrued along the way. That means that you may pay the full cost upfront, but then you'll be later reimbursed by your medical staffing agency. These are the most common reimbursable travel expenses.
State license fees and continuing education units (CEUs)
No matter your healthcare profession, all travel nurses and allied health travelers need to obtain a license and complete CEUs in order to start traveling professionally. The downside to this requirement is that the initial payment comes from you.
On the bright side, you'll be fully reimbursed! When you travel with Fusion Medical Staffing, you'll receive license reimbursement after completing the first five weeks of your assignment. Additionally, Fusion Medical Staffing offers up to $300 a year for certification education, so you can maintain your licensure requirements at no cost to you.
Mileage
The biggest benefit of being a travel nurse or an allied health traveler is the chance to explore various U.S. destinations on your travel bucket list. However, all that movement comes at a cost regardless of your mode of transportation.
To help offset the expense, many healthcare travel agencies offer mileage reimbursement. Fusion Medical Staffing travelers are eligible for up to $300 in mileage reimbursement. The best part is it doesn't matter if you drive or fly to your next travel job — the mileage reimbursement applies to both!
Out-of-pocket traveler costs
So, you know what expenses are covered by your allied health and travel nursing staffing agency. And you know the items you can be reimbursed for. Now let's unpack the out-of-pocket traveler expenses — these are the things you're solely responsible for.
Moving expenses
You don't need us to tell you that it's not cheap to move after every travel contract. And with every move comes new expenses. Moving expenses are the costs associated with relocating for an allied health or travel nursing job. And while some moving expenses may be covered or reimbursable, other types of moving expenses may be your responsibility. Think of things like professional movers, moving truck rentals, storage unit fees, and vehicle and package shipping.
Travel insurance
While it's not required, it can be beneficial to enroll in travel insurance before making the journey to your next destination. Travel insurance can provide peace of mind, cover unexpected medical expenses, reimburse for canceled trips, and locate lost or stolen luggage. With the right travel insurance coverage, you can travel to your assignment worry-free knowing you're covered in the event of something unexpected.
Uniforms and scrubs
A new travel job is a perfect excuse to get yourself a new 'fit, whether that's a slick new pair of scrubs or an upgrade to your business-casual wardrobe! Although this can be an additional expense, it helps ensure that you look professional and prepared for any situation. Investing in new workwear is an investment in yourself and your healthcare career. With the right attire, you can look and feel prepared for anything!
Leisurely activities
You're used to working like a boss. But when your shift ends, let your freak flag fly, and hit the town. It's time to take advantage of your assignment location and soak in the full experience.
From touring museums to visiting historical sites to sampling exquisite restaurants, every city has something waiting to be discovered by you. Taking the time to explore your temporary home can be enriching and offer a break from the demands of the job, all while creating lifelong memories.
The only catch is that the funds to pay for entertainment, excursions, and other activities come from your pocket. On the plus side, there are many coupons, discounts, and deals that can help you stay within your budget without sacrificing your happiness or mental health.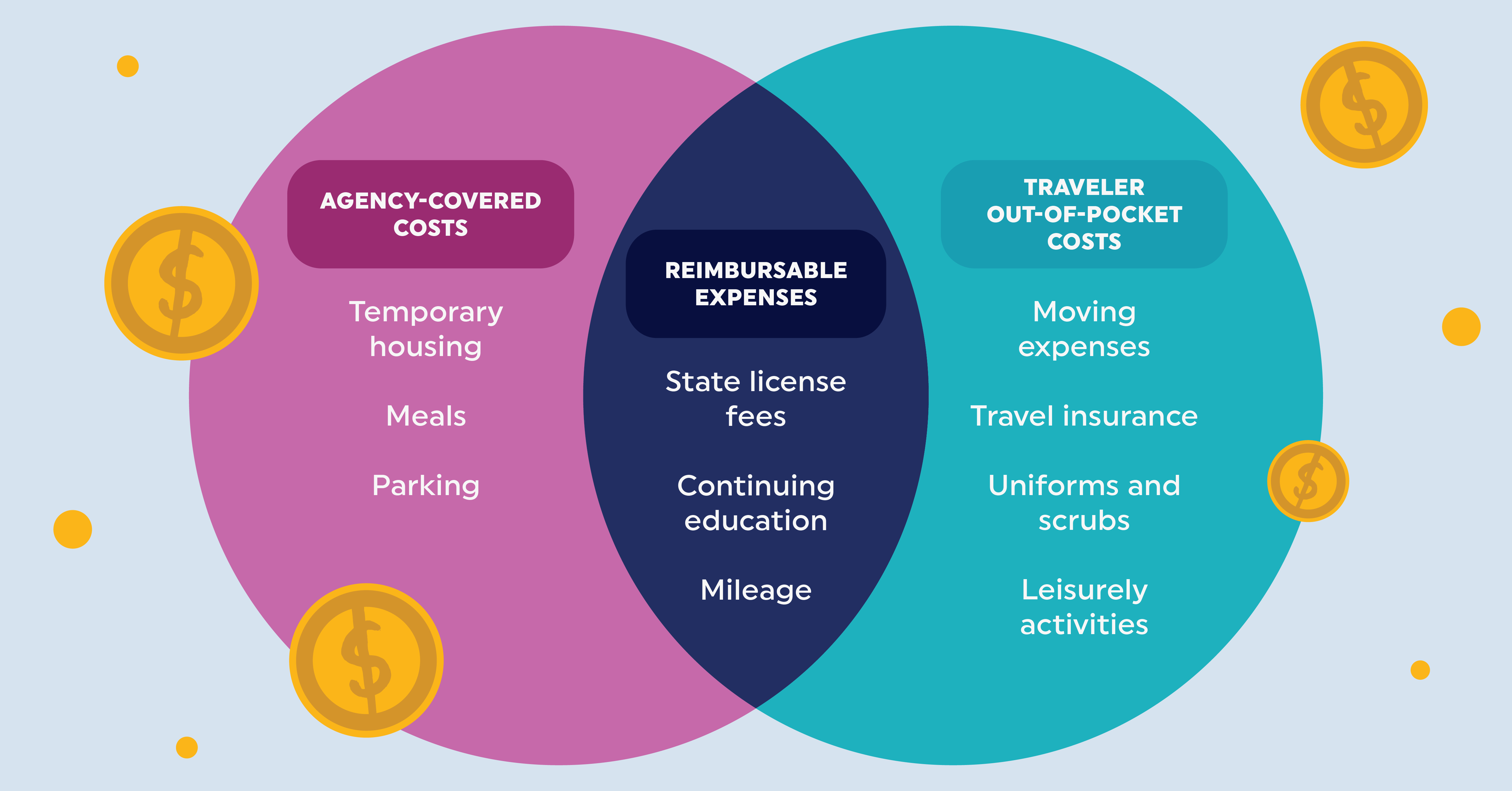 How to avoid hidden travel expenses
Plan ahead
The best thing you can do to avoid hidden or unexpected travel costs is to plan your trip well in advance. Not only will this help you save time and money but doing your research ahead of time can help you dodge any surprise financial bullets.
As you formulate your master plan, consider things like what to pack for your next assignment, how you're getting to your destination, and where you'll stay when you arrive. Once you've determined each level of your travel plan, break each down into smaller sections and think about the potential fees associated with each. For example, as you pack, are there items you can put into storage instead of bringing them along? If you fly, are there airline seat selection fees? If you rent a car, how much is car rental insurance?
When creating your financial game plan, consider all possible expenses, even if the money isn't coming out of your bank account. Think about the cost of:
Lodging
Food and drinks
Utilities
Laundry
Activities
Transportation
Furniture rentals
Cable and internet
With careful planning and research, you can account for a lot of the unpleasant and costly healthcare travel fees. Doing so makes your move easier and more efficient, allowing you to focus on your work instead of worrying about the details.
Make a budget for leisure activities
Travel nursing and allied health travel open a world of possibilities. And creating a budget for leisure activities is key to ensuring you don't accidentally overspend and find yourself in a precarious situation.
Related: Tips for Creating a Travel Nurse Budget During Inflation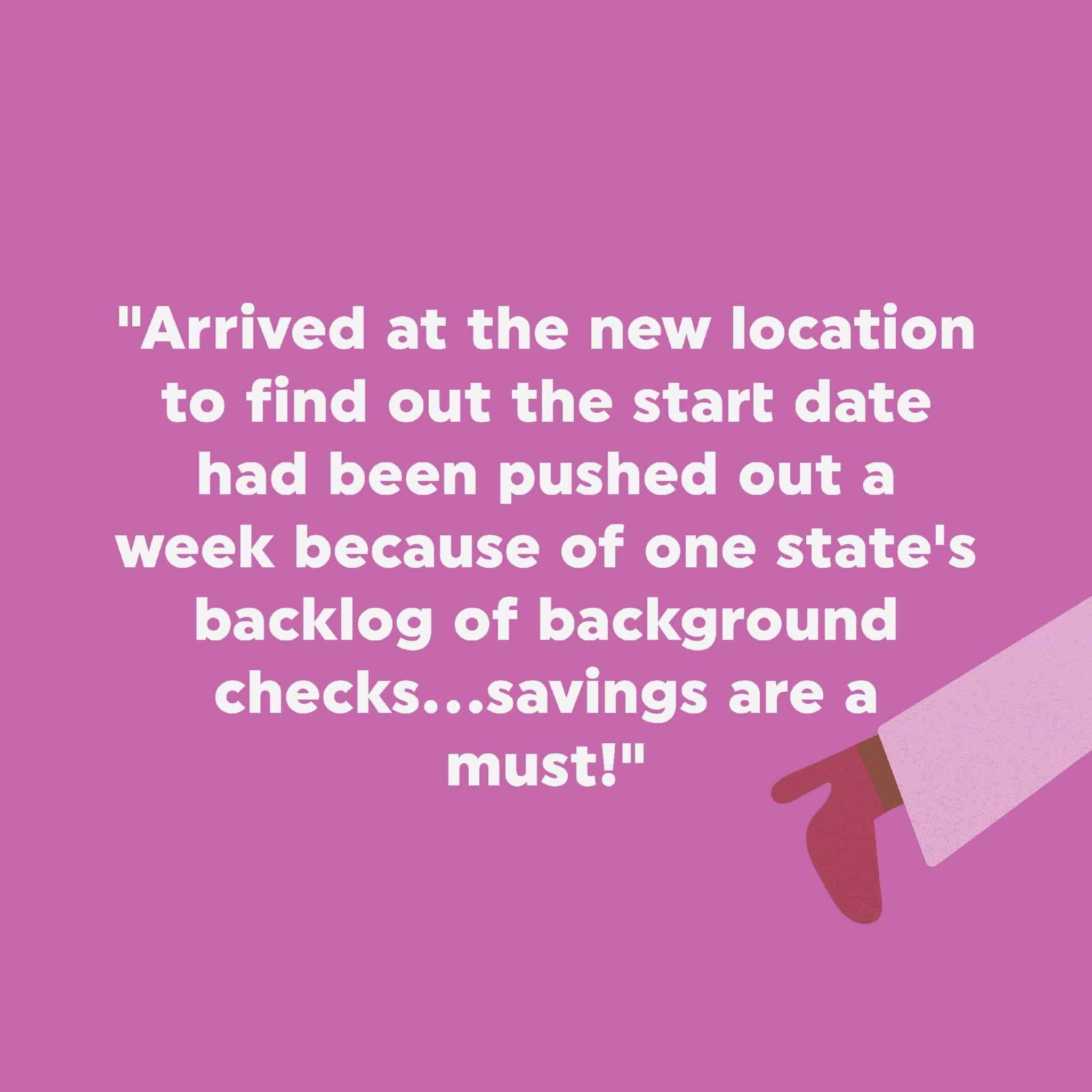 Not only does creating a budget help you stay on top of your finances, but it also provides peace of mind that you can cover any unexpected costs that pop up. A budget allows you to track your spending and allocate funds accordingly so that you can enjoy your travel adventures without worrying about the financial implications.
Take advantage of deals and discounts
The positive impact you make in the lives of others doesn't go unnoticed — there are countless deals and discounts specifically for medical professionals like you. All you have to do is use them!
Regardless of what you're looking for — flights, car rental, hotel reservations — there's likely a deal or discount code out there for you. If you need help finding them, reach out to your recruiter and ask how Fusion Medical Staffing can hook you up.
Frequently asked questions
Am I responsible for furnishing my temporary living space?
Travel nurses and allied health travelers can either utilize fully furnished housing options or purchase/rent your own if you're staying in an unfurnished unit. If you're interested in lodging that comes complete with all the furnishings you need, consider reserving a hotel room or Airbnb.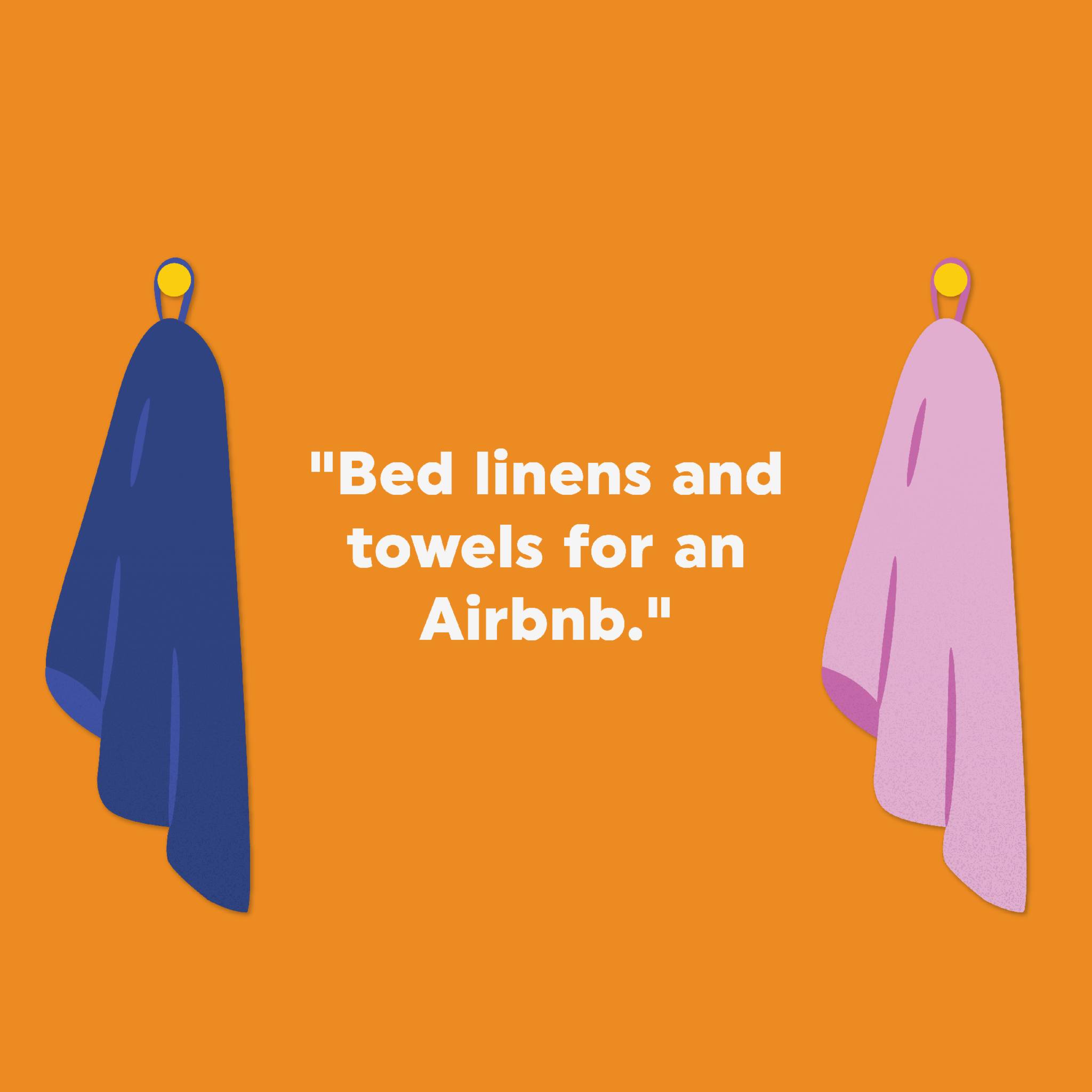 But if you're renting a property, you may need to find your own furniture. Luckily, there are a variety of resources available to help make the furnishing process easy and affordable — try Craigslist, Facebook Marketplace, or local thrift stores!
Are there any added expenses for traveling with pets?
Traveling with pets can be a great experience for both you and your little pal, but it can also come with added expenses. To keep your pet safe and comfy while on the road, you'll need to invest in a pet carrier, food and water bowls, and a stash of their favorite treats and toys.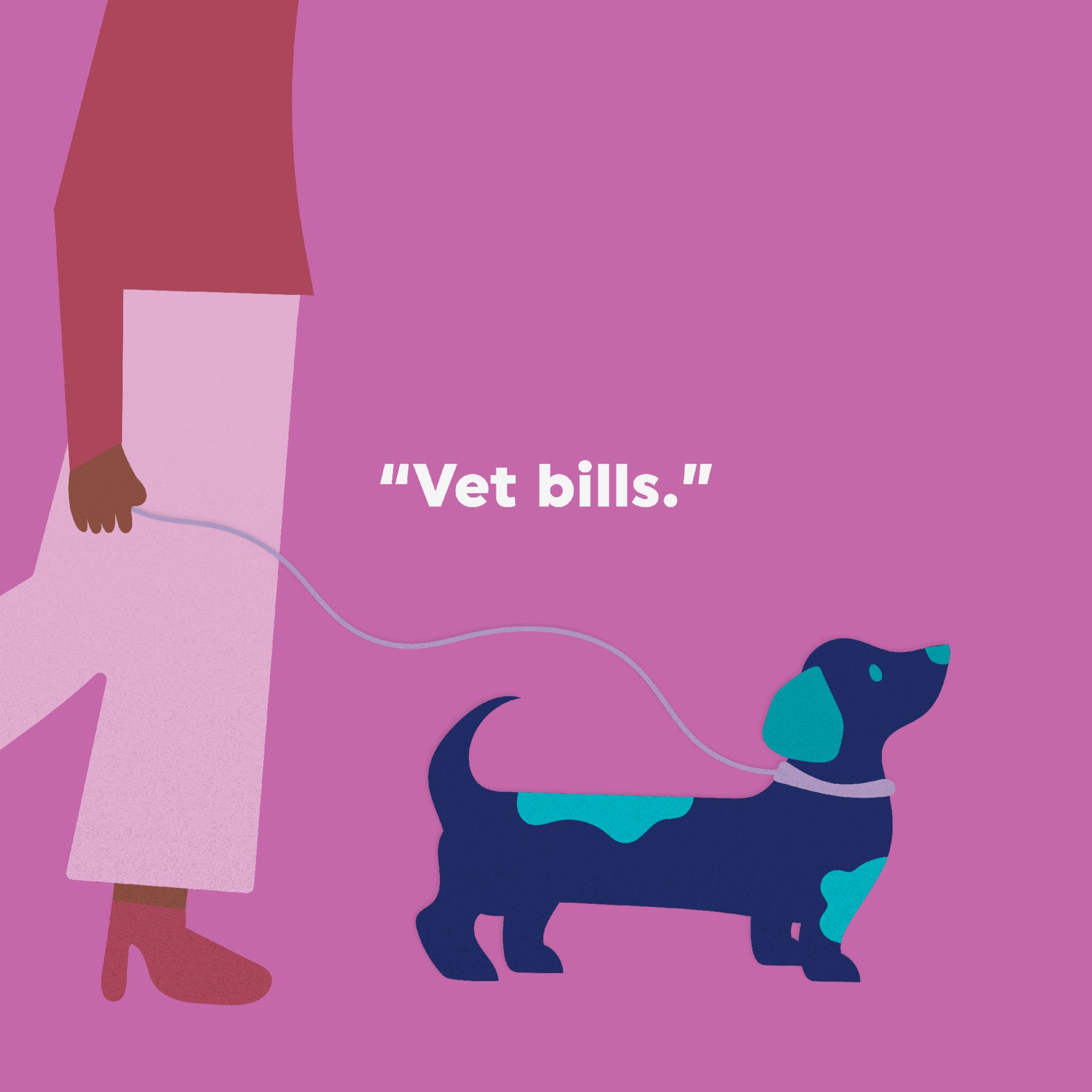 Additionally, you'll want to factor in pet-related travel costs like special vaccinations, pet insurance, and transportation or lodging fees. Taking the time to budget for the extra costs associated with pet travel is an important step in making sure your trip is stress-free.
What financial resources are available to Fusion Medical Staffing travel nurses and allied health travelers?
When you travel with Fusion Medical Staffing, you know you're covered in all areas of life. Not only do Fusion Medical Staffing travelers benefit from competitive rates, direct deposit payments, and reimbursements for eligible expenses, but you also gain access to the Lifeworks employee assistance program.
Lifeworks offers financial, social, mental, and physical support whenever you need it. From financial planning to fraud and identity theft to money management, Lifeworks offers ample resources to help you save and make the most of your funds.
You shouldn't have to break the bank to live your best life as a travel nurse or allied health traveler. And you won't when you travel with Fusion Medical Staffing. With agency-covered costs, reimbursable expenses, and special discounts and deals, Fusion Medical Staffing has your best interest (and bank account) in mind.