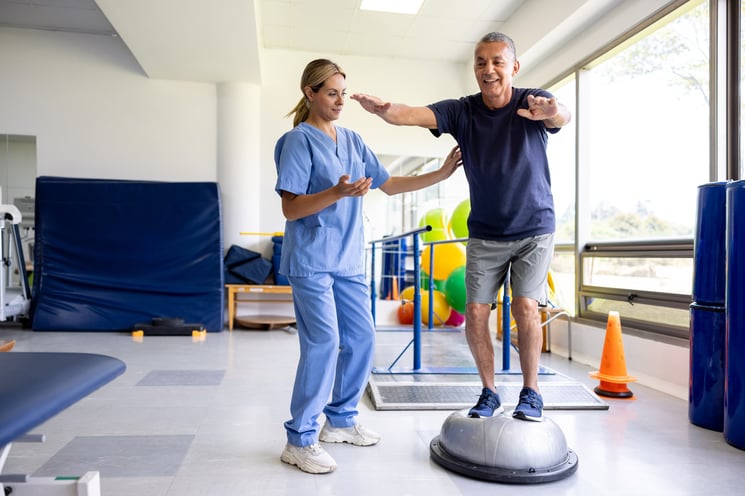 Ready to embark on an enlightening journey into the dynamic world of travel therapy? Whether you're a therapy student, new graduate, or experienced professional, we have what you're looking for — we're coming in hot with answers to the travel therapy questions you want to know most about.
Answers to Travel Therapy FAQs
How does travel therapy work?
You may have heard of travel therapy, but do you know how it works? Travel therapy is a unique and exciting career that allows healthcare professionals like physical therapists (PTs), occupational therapists (OTs), and speech-language pathologists (SLPs) to provide their services in a variety of locations across the country. These travel contracts typically last around 13 weeks but can be shorter or longer depending on the traveler and the facility.
The exact process for landing a therapy travel job may differ by staffing agency. Here's what you need to know about the Fusion Medical Staffing travel process.
1. Apply to a travel job
The first step to starting your travel therapy career is to apply for a travel job. You can easily do this by submitting a quick app and completing your skills checklist online. Remember, this is your chance to showcase your abilities, experience, and passion for making a difference in people's lives so make sure your healthcare resume is up to date and in shape to wow the Fusion Medical Staffing application teams.
2. Connect with a therapy recruiter
Now that you've submitted your job application and skills checklist, it's time to chat with a Fusion Medical Staffing recruiter. This step allows you to express your professional desires, ambitions, and any specific needs you may have as a traveler.
Fusion Medical Staffing therapy recruiters are knowledgeable and act as your personal guide to help you navigate the sea of job selections. With their help, you can get matched with a position that suits your expertise and preferences.
3. Start your therapy travel job
After all the exploration and consideration, the last step of the Fusion Medical Staffing travel process comes down to you — will you accept a job offer or continue your search?
At this stage, it's essential for you to weigh your options, considering factors like the job role, the potential colleagues, the location, and the culture. We understand that it's not just about finding a job, but the right one so once you receive a job offer, you get to decide if it aligns with your career aspirations and personal interests.
Is travel therapy limited to one field?
Now that you know how travel therapy works, let's talk about who can be a travel therapist. This lucrative profession is for any licensed therapist who wants to combine their love for patient care and wanderlust including PTs, OTs, SLPs, as well as physical therapy assistants (PTAs) and occupational therapy assistants (OTAs). As long as you're educated and licensed in a field of therapy, you can expand your career and start traveling.
Can I be a travel therapist as a new grad?
Spoiler alert: yes! One of the best parts of travel therapy is the opportunity to hit the road right after graduation, regardless of how much allied health experience you have.
A travel therapy path presents an excellent excuse to explore different cultures, work settings, and individuals while enhancing your clinical skills. Luckily, many healthcare staffing agencies (like Fusion Medical Staffing 🤩) specialize in placing new graduates in temporary positions around the country. We provide guidance, support, and mentorship to help you transition smoothly into your new role as a travel therapy professional.
How much do travel therapists make?
It's no secret that travel healthcare professionals often earn more money than their staff counterparts and that's also true for therapists. Travel therapists are usually compensated at higher rates because they're willing to frequently relocate and adjust to different work environments. Plus, as a travel therapy professional, you can enjoy added benefits like a housing stipend, travel reimbursements, and referral bonuses, which significantly boost your overall income.
Where do I stay while working a travel job?
If you're constantly moving around the country every 13-ish weeks, then where do you live during an assignment? The good news is that you have a variety of housing options, and you get to decide what's right for you: agency-provided housing or a tax-free housing stipend.
While some travelers choose to stay in extended-stay hotels or furnished units, others may opt for renting their own apartment or house. None of these fit your fancy? Consider traveling by RV! The important thing is not where you stay, but that you find a comfortable and relaxing space to unwind after a day's work.
How does travel therapy licensure work?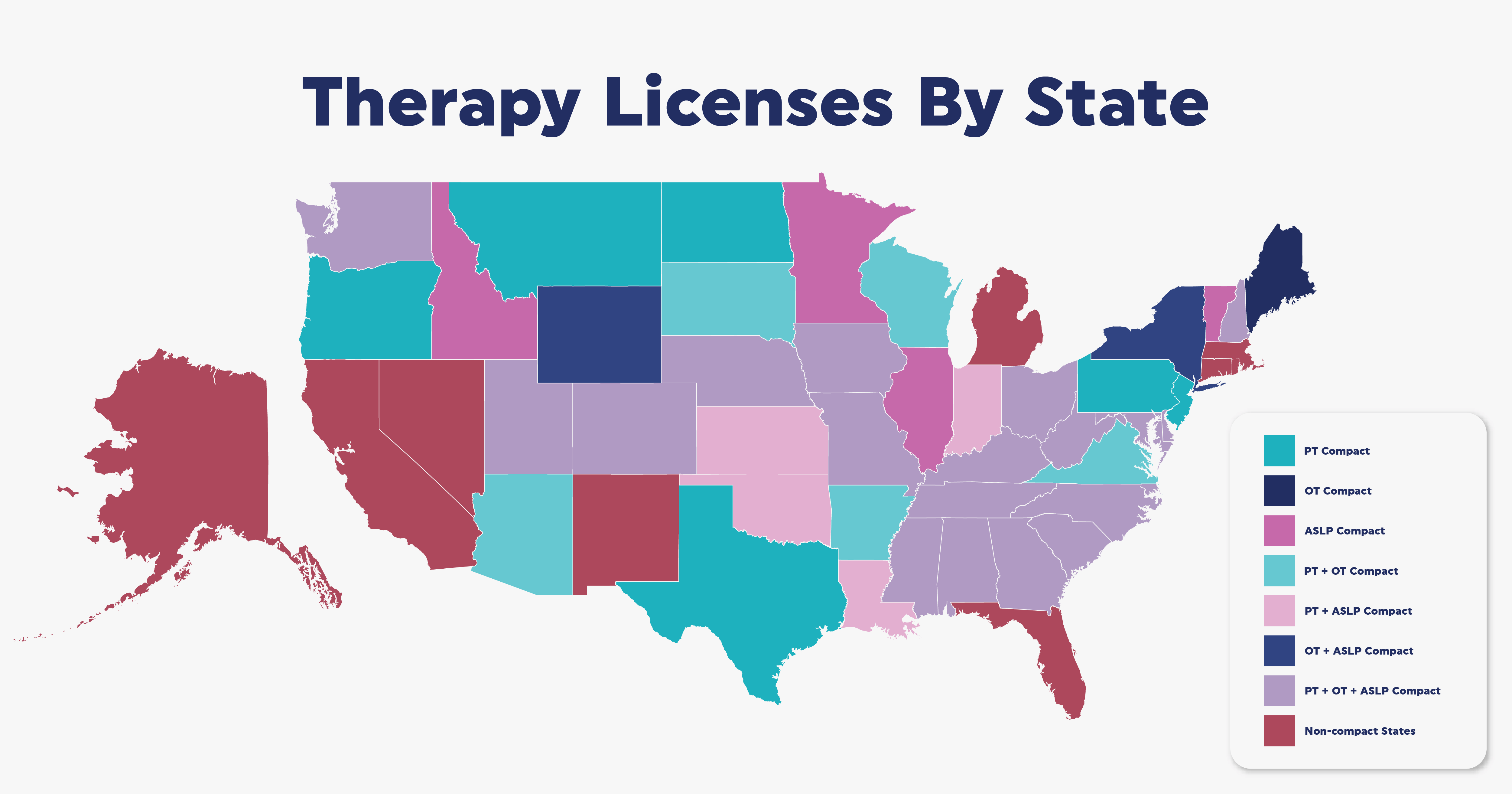 Map data from September 8, 2023
Before you can start traveling the country as a therapy professional, you'll need to get licensed in the state where you want to work. The licensing process differs slightly for each state and therapy specialty, but here's a pro tip: ✨ look into compact therapy licenses! ✨
Available to PTs and PTAs, OTs and OTAs, as well as SLPs, a compact therapy state license allows you to practice in the multiple states that participate in the compact agreement all under one license. Therapists with non-compact licenses who wish to practice in a different state must go through the process of obtaining licensure in that state, adhering to the specific requirements and regulations of the new state.
Want to apply for a compact license? Be prepared to provide a current and valid therapy license in your home state and a driver's license from your home state. Additionally, depending on the state license, you may be required to pass the Jurisprudence Examination.
Regardless of what type of travel therapist you are, getting a compact license can save you time on paperwork and opens up a myriad of opportunities for you to serve more patients and broaden your professional experience.
What type of healthcare facilities do travel therapy professionals work in?
Travel therapists, including travel physical therapists, occupational therapists, and speech-language pathologists have a one-of-a-kind opportunity to work in an array of healthcare settings. The type of work environment can range from traditional facilities like hospitals and outpatient clinics to more specialized institutions such as a skilled nursing facility, schools, rehabilitation centers, and patients' homes. No matter where you work as a travel therapy professional, you'll have the chance to work with diverse patient populations, tackle challenges, and gain valuable experience that strengthens your professional portfolio.
What are the perks of travel therapy with Fusion Medical Staffing?
All set to update your LinkedIn profile with "Fusion Medical Staffing travel therapist"? We have all the perks you're searching for like competitive pay and assistance with the credentialing process (and then some). These advantages could be yours when you travel with Fusion Medical Staffing.
One kick-ass recruiter
You may have heard that many travelers hop from recruiter to recruiter at other staffing companies. But not at Fusion Medical Staffing. Here, you'll be assigned to one kick-ass recruiter for the entirety of your Fusion Medical Staffing travel experience.
Working with a singular recruiter offers a streamlined approach to finding travel jobs and ensures you're receiving individualized service with every assignment. Curious about what makes Fusion Medical Staffing recruiters so special? From advanced industry knowledge to strong communication skills to unwavering trustworthiness, there's a lot to love about Fusion Medical Staffing recruiters.
Professional mentorship
When you're ready to roll in a travel therapy career, you can take comfort knowing that you won't be left to fend for yourself at Fusion Medical Staffing. Instead, you'll be paired with a mentor in travel physical therapy or occupational therapy who will be there to help you find your footing on your first few assignments.
Having a professional mentor can give you exclusive insight and valuable guidance as you navigate your new career path. The mentor-mentee relationship is a powerful tool that can significantly contribute to your professional growth and confidence in the field. This program isn't just about learning the ropes, but also about cultivating a mindset that prepares you for the exciting opportunities and occasional challenges that come with travel therapy.
Comprehensive health benefits
You're an expert at taking care of your patients. We're the pros at taking care of you. And one way we do that is through inclusive benefits that not only include general health coverage, but also the option for dental and vision insurance.
But that's not all — Fusion Medical Staffing believes that mental health is equally as important as physical health. That's why Fusion Medical Staffing health insurance offers a $0 copay for mental health services, making these resources more accessible and affordable.
In addition to health coverage, Fusion Medical Staffing also provides life and disability insurance, retirement 401k investment, accidental insurance, critical illness insurance, and identity theft protection.
Employee assistance program (EAP)
Need to vent about your family? Could you benefit from a financial helping hand? Looking for discounts and deals? Check off all these boxes with Fusion Medical Staffing's Lifeworks EAP.
The Lifeworks EAP is a fantastic resource for Fusion Medical Staffing employees, including you. Offering services like counseling, legal advice, and financial planning, Lifeworks can act as a lifeline during stressful periods, promoting mental wellbeing, and workplace productivity.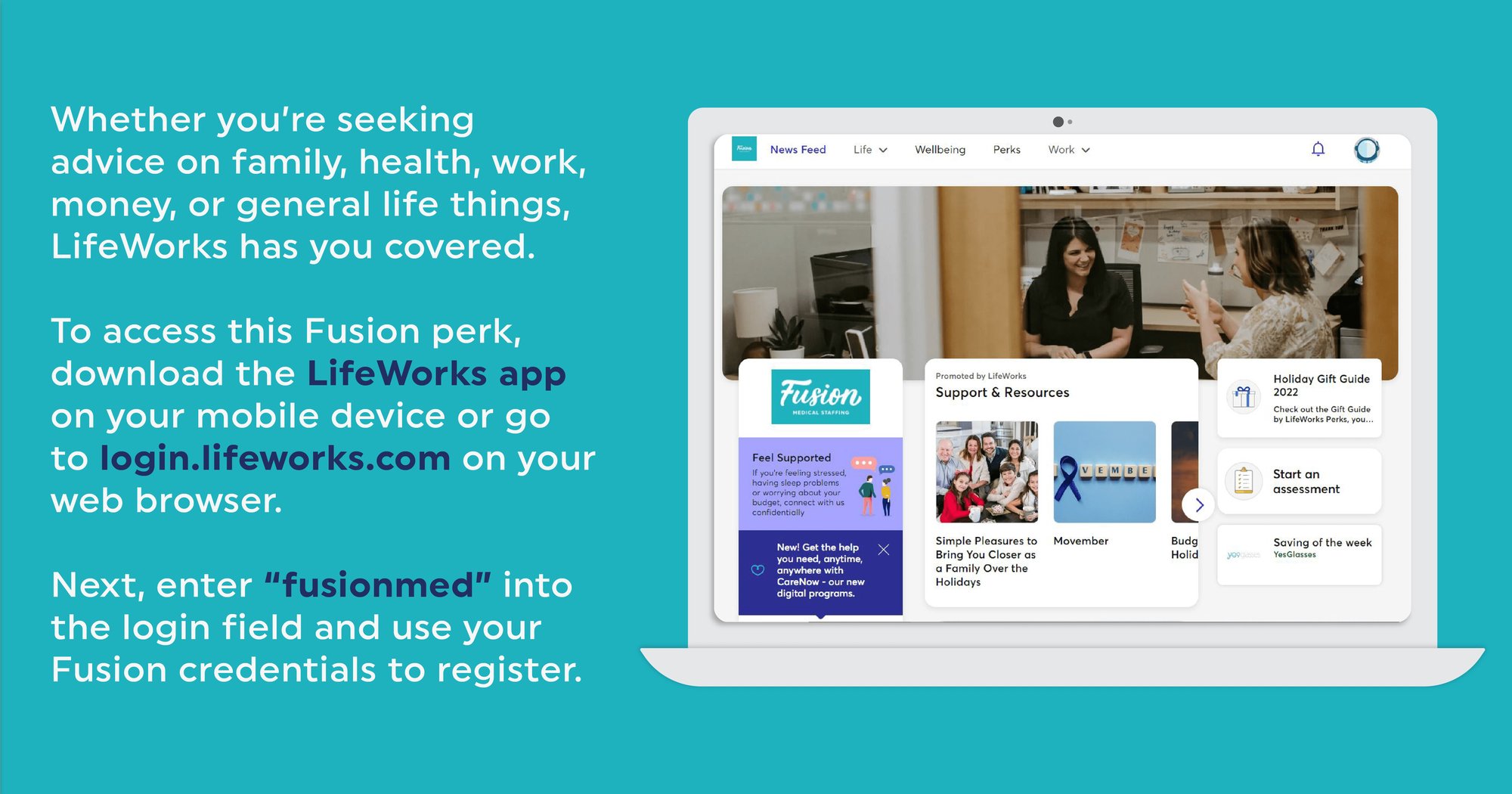 Paid time-off (PTO)
Ever worked for a travel healthcare staffing company that has PTO for travelers? Start traveling with Fusion Medical Staffing and the answer will be yes!
We know that rest and recuperation are key to avoiding burnout. When you travel with Fusion Medical Staffing, you'll earn 40 hours of PTO after completing 1,560 hours of work. And what you do with that 40 hours is completely up to you — visit a tropical U.S. destination, hit the best breweries in the country, or indulge in the top eateries on the West Coast, your options are limitless.
So, now that your travel therapy questions have been answered, what are you going to do with this newfound knowledge? Hint: begin your therapy travel adventure with Fusion Medical Staffing!
Being a traveling therapist comes with a wealth of benefits that extend from what you may have expected. From opportunities to scout different parts of the country to expanding your skill set to making a positive difference, a career in travel therapy offers an incomparable blend of professional growth and personal exploration.