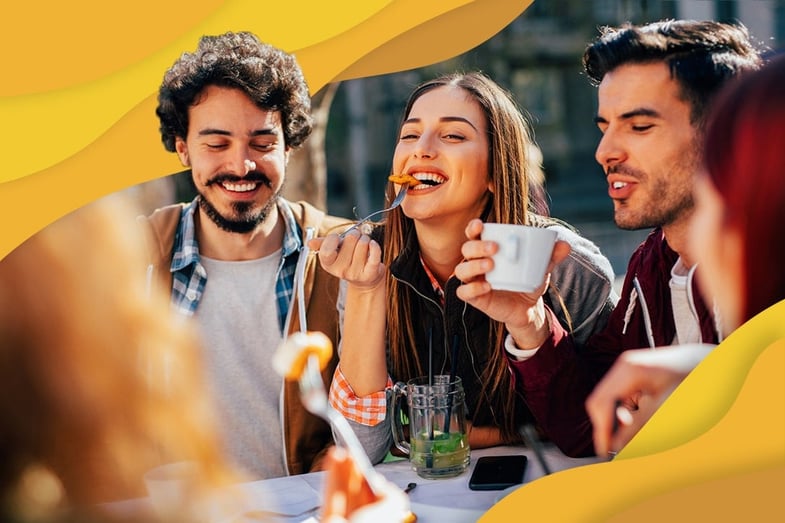 Here's the thing: Everyone has to eat. It's one of the most basic human survival needs. But it's up to you to decide what to eat. And as a professional medical traveler, you're in a unique position to try new and local food in each city you travel to and work in. I don't know about you, but my stomach is already growling.
Top Places To Eat on the West Coast
If you're looking for where to go for your next travel assignment, make your way to the West Coast and see what the hype is all about in the local foodie community. From fresh seafood to massive burgers and more, the West Coast has a little somethin' somethin' for all food enthusiasts. These are the cities we're going to explore:
Los Angeles, California
Image from discoverlosangeles.com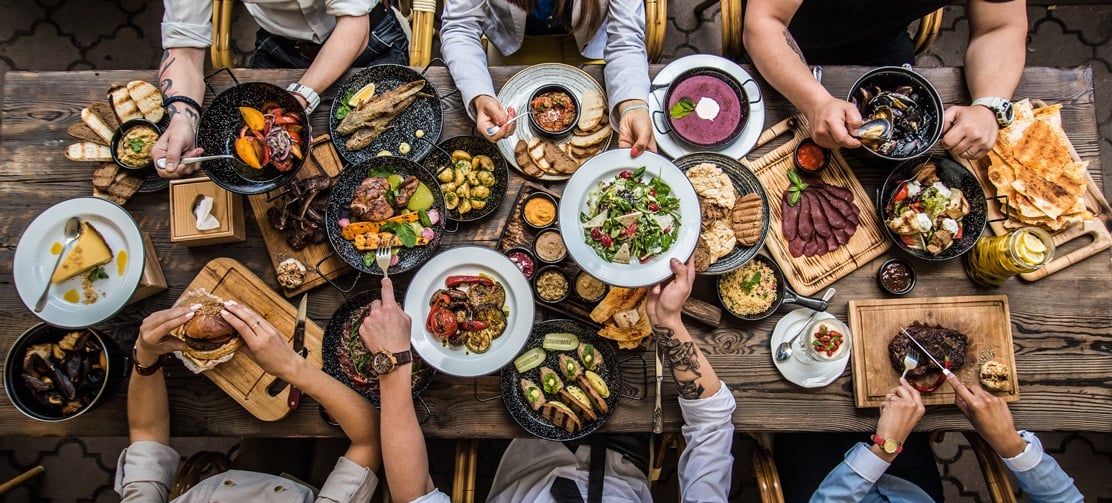 When you think of LA, you might think of beach bods, ocean waves, and stunning sunshine. But once you taste test your way through the West Coast, you'll come to fondly remember LA as one of the country's foodie capitals.
Crossroads Kitchen
Price: $$$
Yelp review: 4 stars
Takes reservations
Offers takeout and delivery
Vegetarian options
Vegan options
Vegan and plant-based cuisine has come a long way since its rise in popularity in the early 2000s. And Chef Tal Ronnen of Crossroads Kitchen is one of the major reasons why. No, seriously. Even if you don't consider yourself a plant aficionado, you're going to want in on this delicious action. According to their website, Crossroads is "an intersection where vegans, flexitarians, omnivores, and meat eaters can cross paths to share a delicious meal and a good time."
Image from the Crossroads Kitchen Facebook page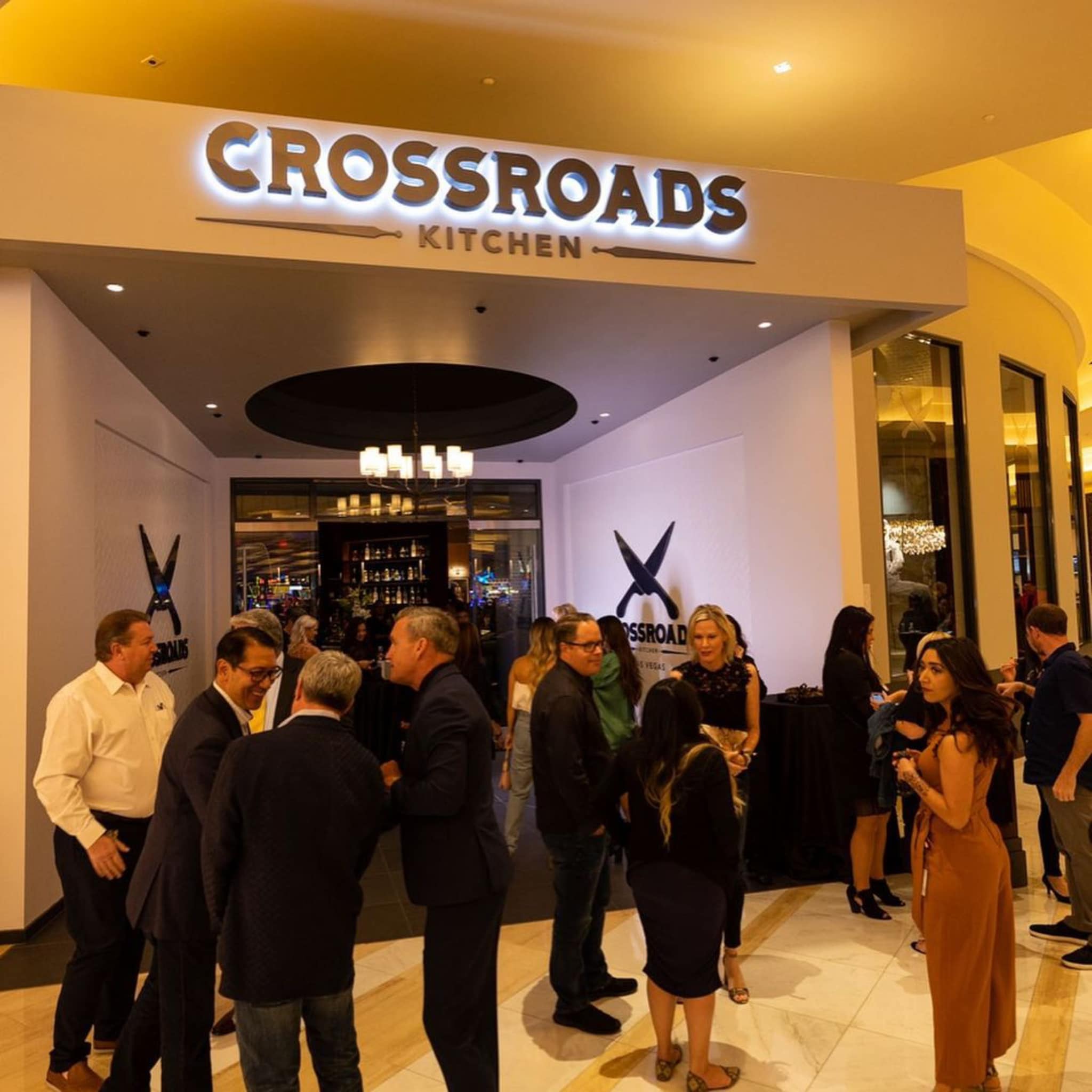 Chef Tal brought Crossroads Kitchen to life in 2013 and the people of LA have not stopped raving over it since. That's not even an understatement and yes, we understand LA is a big city. But once you've tasted the complex flavors of the Crossroads signature carbonara, complete with a runny tomato-based "egg" yolk, you won't be able to stop talking about it, either.
And not only will you find one-of-a-kind vegan recipes at Crossroads Kitchen, but you'll also experience upscale dining at the town's first plant-based restaurant with a full bar. As soon as you enter the eatery, you'll be swept off your feet by the unique aromas, décor, and food sightings. If it weren't for us, you may not even realize that Crossroads' menu is plant-based, you might just be so enticed by the comfortable atmosphere and, obviously, the taste of the food.
Dulan's Soul Food Kitchen
Price: $$
Yelp review: 4 stars
Offers takeout and delivery
Vegetarian options
You've heard that food is a universal language, and that couldn't be truer at Dulan's Soul Food Kitchen. This gem has been an LA staple for more than 20 years, thanks to its fearless family of leaders, Gregory Dulan and his father, Adolf Dulan (more commonly known as "King of Soul Food"). We'll tell you all about it, but to get the full experience, visit this iconic LA eatery ASAP.
Image from the Dulan's website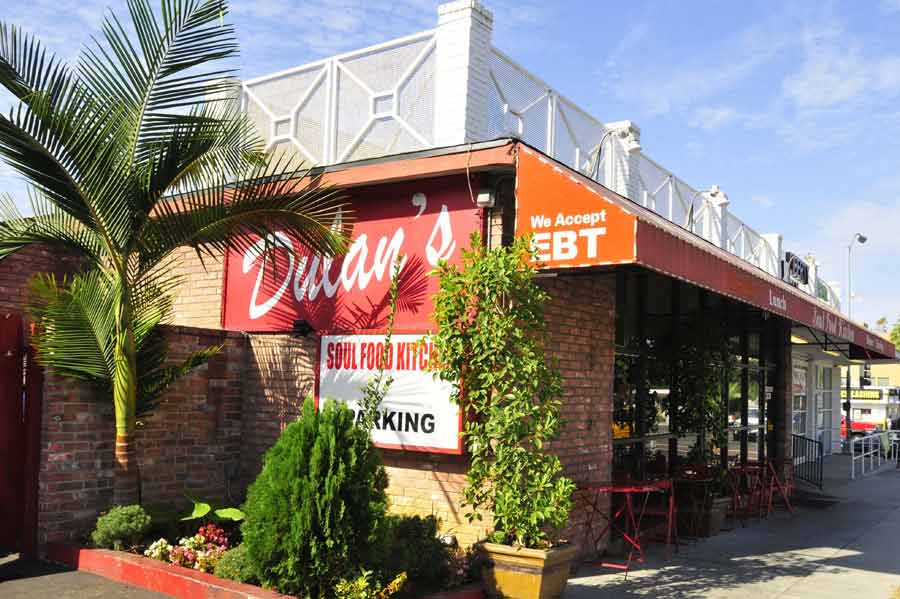 Adolf Dulan grew up on a farm in Oklahoma watching his mom as she prepared delicious family meals and kept the house running. There, he learned how to make farm-raised fried chicken, fresh collard greens, and other secret family recipes. He didn't know it then, but these skills would build the foundation of his and his family's successful future.
After managing, developing, and opening several successful eateries around the LA-area, Adolf created the first Dulan's Soul Food Kitchen in 1999. Fast-forward more than 20 years later and this famous cafeteria-style restaurant is still family-owned and operated and serving the same super-secret mouthwatering family recipes that the King of Soul Food, himself, made famous. From fried fish, homestyle smothered chicken, ox tails, and more, this restaurant is sure to satisfy your soul.
République
Price: $$
Yelp review: 4 stars
Takes reservations
Vegan options
Vegetarian options
Bonjour! Parlez-vous Français? Luckily, you don't have to be fluent in French to feel like you belong at République. Located in the heart of LA, the space where this French-inspired restaurant currently lives has a rich history.
Ever heard of Charlie Chaplin? Or the La Brea Bakery? What about Campanile Restaurant? Well, République shares the same iconic location right in Miracle Mile. This historic building was first built in 1929 by Charlie Chaplin and then later transformed into the well-known La Brea Bakery and Campanile Restaurant. Now, République builds on this storied past to offer a "gastronomic environment imbued with history and grandeur."
Image from the Republique Facebook page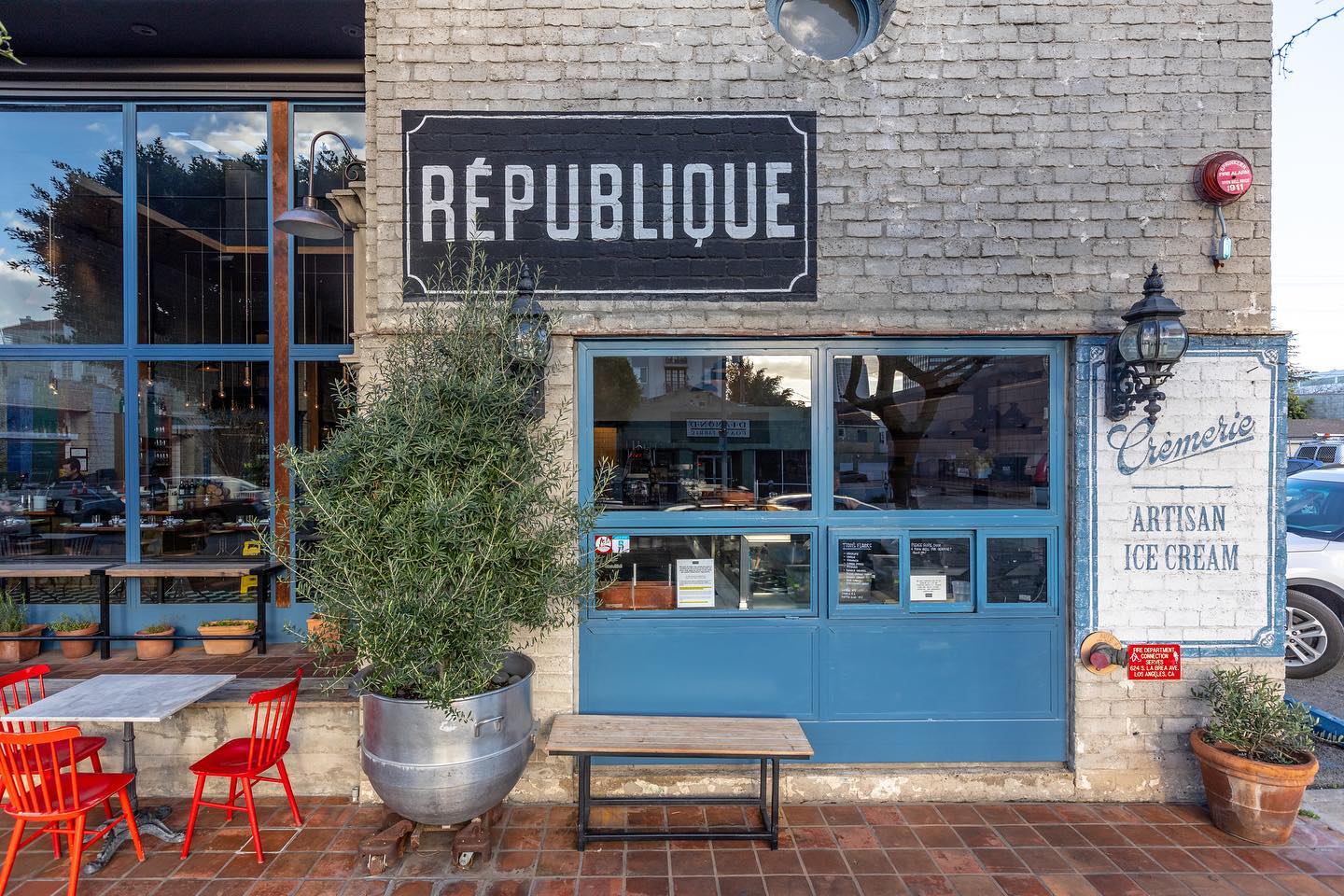 Owned and operated by power couple, Walter and Margarita Manzke, République made its name from Walter's passion for Parisian cuisine and Margarita's wicked baking skillz (yes, with a "z" because they're that good). Together, this duo manages several other diverse restaurants and bakeries in the area, in addition to a handful of eateries in the Philippines.
Step inside the historic Charlie Chaplin building and treat your tastebuds to a whole new world. From the restaurant, you can expect traditional French dishes with a West Coast twist with menu items like blue fin tuna tartare, white asparagus cacio e pepe, wood fire oven paella, and red wine braised beef short rib. On the other side of the business is the bakery, where we dare you not to order a chocolate hazelnut bamboloni, market fruit crostata, madeline, or another melt-in-your-mouth kind of pastry.
Search for California travel jobs.
San Diego, California
Image from sandiego.org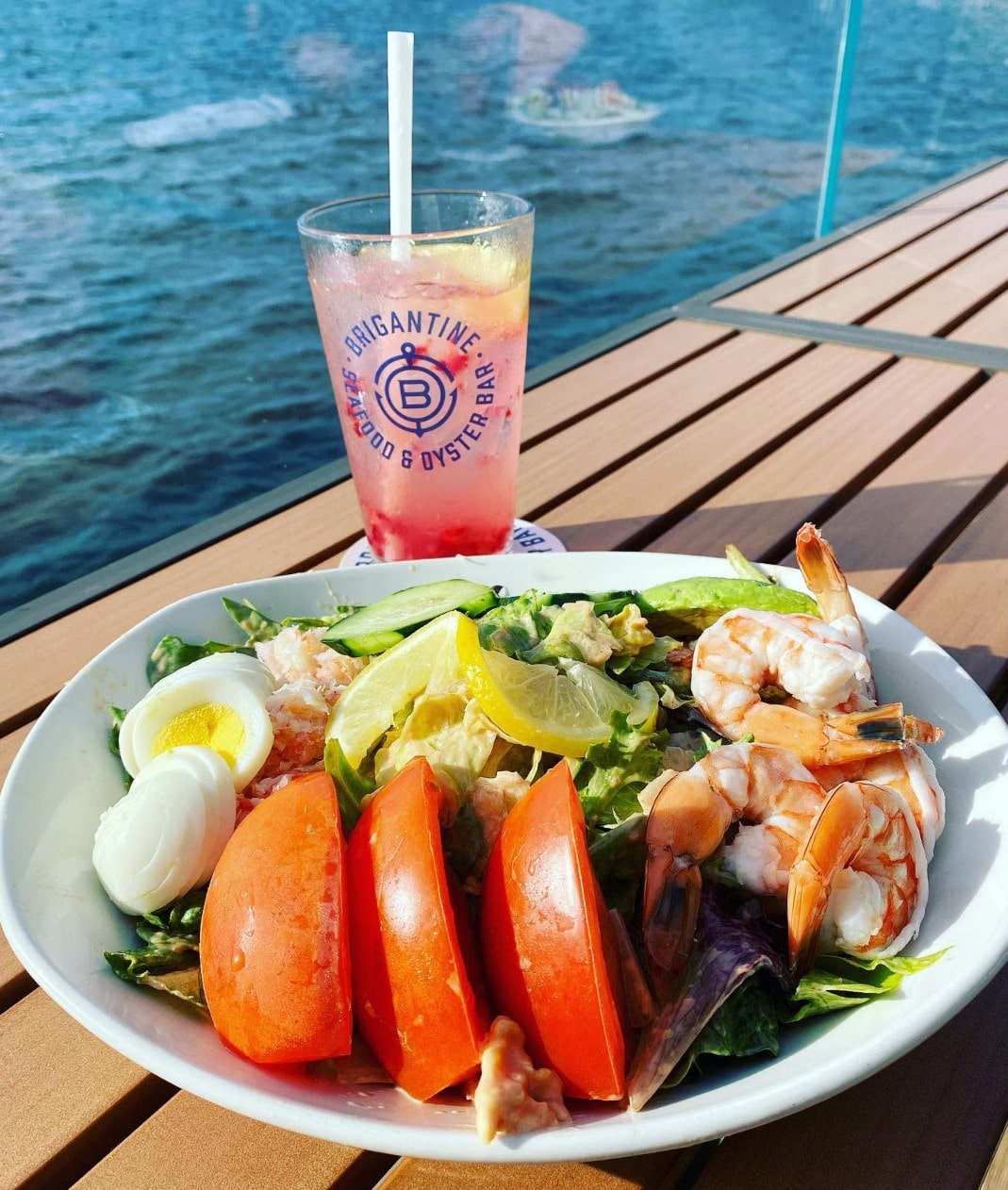 San Diego is commonly known for one of the best zoos in the country, where the first SeaWorld theme park emerged, and, obviously, the gorgeous sand beaches. But did you know that San Diego also boasts a stellar culinary scene for foodies like you? See for yourself and check out our top picks!
Sandpiper Wood Fired Grill & Oysters
Price: $$
Yelp review: 4 stars
Takes reservations
There's a lot of talent that goes behind crafting delicate dishes full of robust flavors and diverse ingredients. And the team at Sandpiper Wood Fired Grill & Oysters certainly have the level of talent needed to make it in the cut-throat restaurant biz.
Image from the Sandpaper Wood Fired Grill Facebook page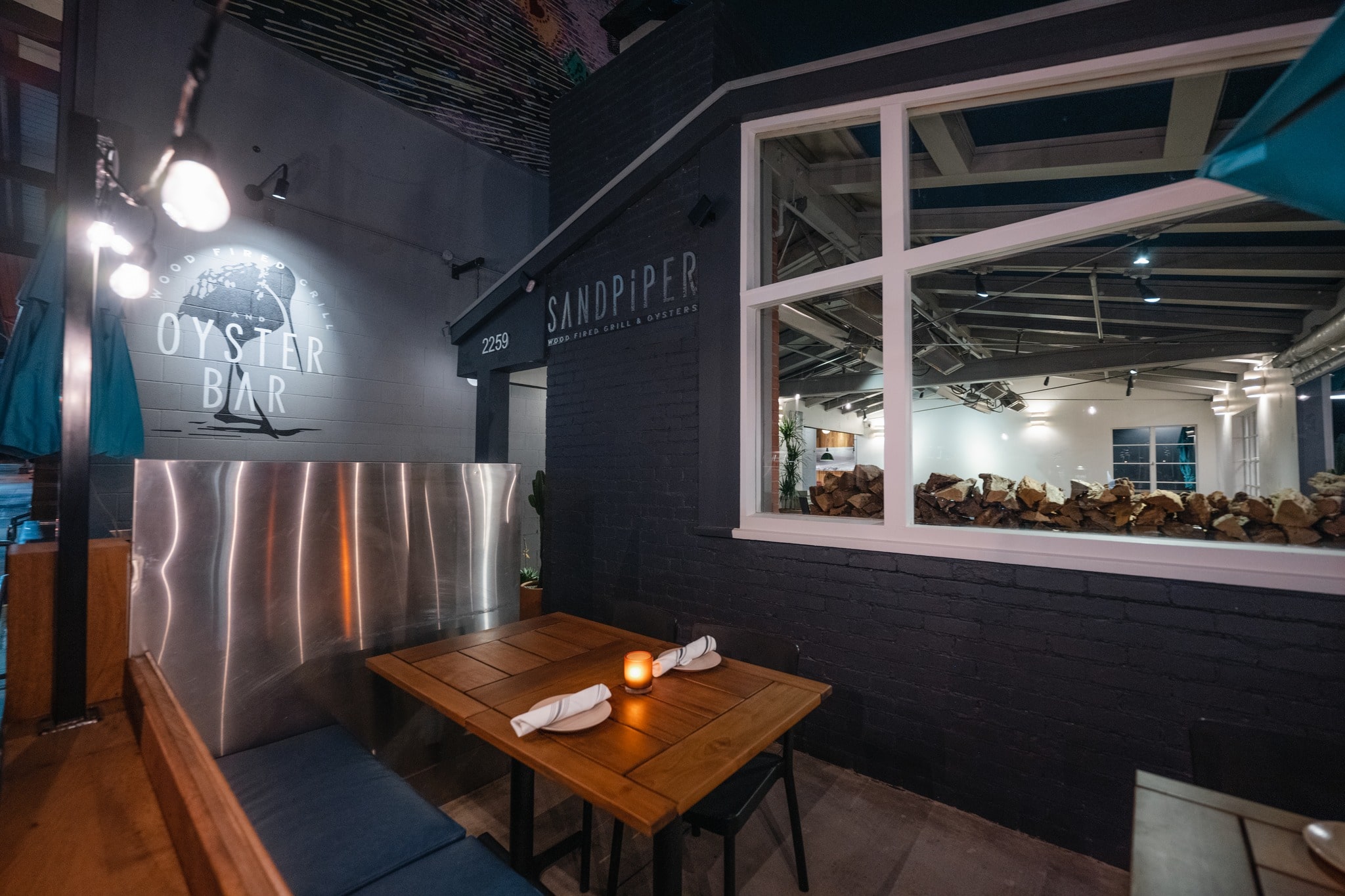 What's better than a nice, relaxing beach day in La Jolla Shores? Answer: A nice, relaxing beach day in La Jolla Shores followed by fresh oysters, grilled focaccia, steamed mussels, and then some. If you close your eyes, you can almost feel the sea salt breeze brush against your sun-kissed cheeks. Head to Sandpiper and experience it IRL!
A sister restaurant of La Jolla's famed Georges at the Cove, Sandpiper is led by chef/owner Trey Foshee, in collaboration with chef Christine Rivera and general manager Evan Vallée. Together, this unstoppable trio makes Sandpiper what it is—a lovable, casual neighborhood restaurant. With an impressive on-sight custom wood-fired grill, Sandpiper's menu features a wide variety of fun, shareable items that are unlike anything you've ever tasted.
Grand Ole BBQ y Asado
Price: $$
Yelp review: 4.5 stars
Offers takeout
Vegan options
Vegetarian options
Foodies near and far can't get enough of the goodies from Grand Ole BBQ y Asado. And once you taste their sweet, yet savory, fall-off-the-bone barbecued meats, you'll understand why. What's even better is Grand Ole BBQ has multiple locations across San Diego—the OG location is in North Park and a second location in Petco Park. Whichever site you visit, you won't be sorry.
Image from the Grand Ole BBQ y Asado Facebook page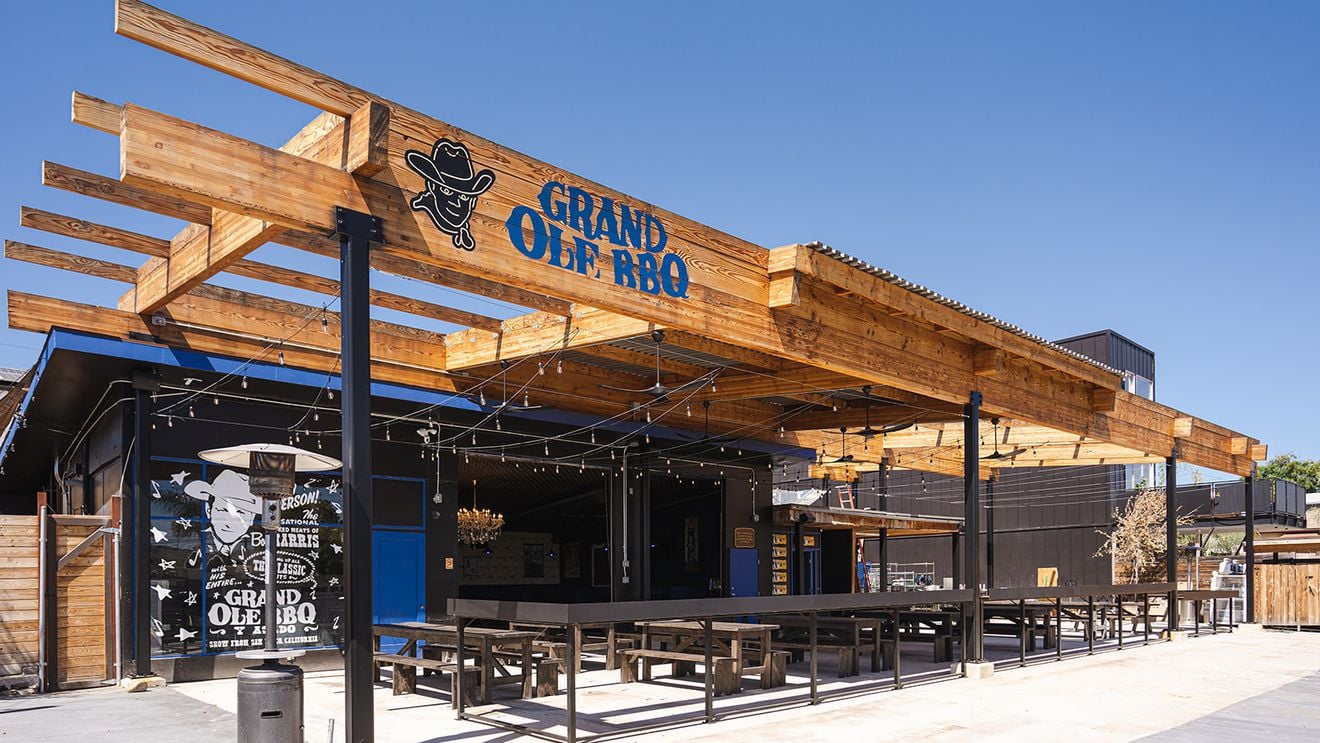 "I fell in love with Central Texas BBQ flavors as a kid and often wondered why there wasn't a venue that combines those flavors with great music in an outdoors setting in San Diego," said Grand Ole BBQ's owner, Andy Harris.
It was that core thought that led Andy to building a BBQ empire right in his own backyard in San Diego. Since Andy found his passion at such a young age, he was able to spend the next several decades perfecting his techniques and sampling all the best BBQ in Kansas City, Memphis, North Carolina, South Carolina, and, of course, Texas. By 2015, the first Grand Ole BBQ was erected, and Andy's lifelong obsession with BBQ became his golden ticket to paying the bills.
After undergoing a long-awaited renovation, the North Park Grand Ole BBQ has finally reopened, bigger and better than ever. Now when you visit this Texas style eatery, you'll be welcomed by Disney-inspired artwork, a new bar with expanded beer taps, and a 1,000-gallon Texas pit. But the one thing that hasn't changed is the succulent flavors of the menu.
The updated kitchen allows for more chef space, which, lucky for us, has resulted in an even broader food menu! Find signature smoked meats—from tri-tip and brisket to pulled pork, Texas turkey, hot links, and ribs—sticky rice and kimchi, plus vegan versions of popular menu items. Top it all off with an ice cream sundae or classic root beer float. Mmm, my stomach is grumbling just thinking about it.
Wolf in the Woods
Price: $$
Yelp review: 4.5 stars
Takes reservations
Vegan options
Vegetarian options
After you've tried the snacks and small plates at Wolf in the Woods, you'll be howling for more. This unique wine bar and café celebrates the legendary "folklore and arts" of native New Mexico through its artistic interior design and dedication to new- and old-world cuisine. Step inside and get a taste of the magic. Your tastebuds will thank you.
Image from the Wolf in the Woods Instagram page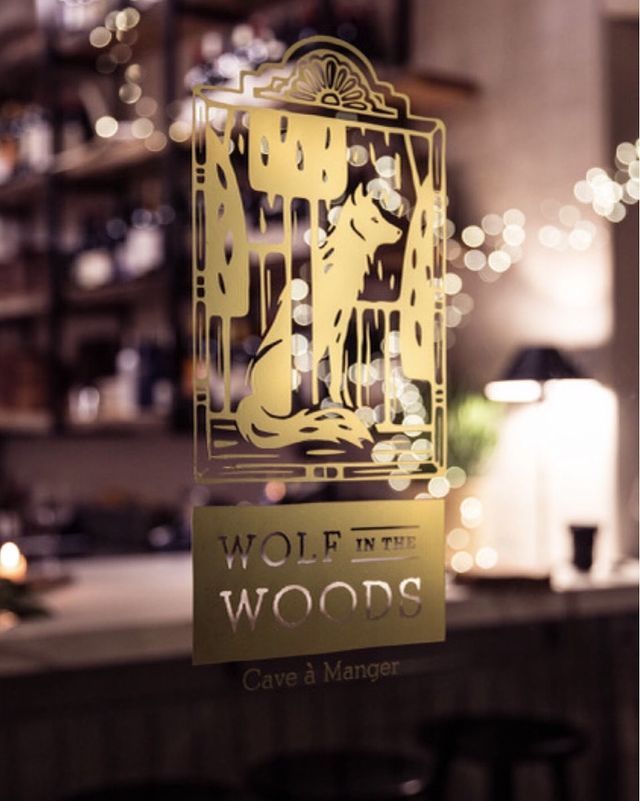 If you find yourself exploring the San Diego streets of Mission Hills, then regain your strength and replenish your energy over a good meal at Wolf in the Woods. This neighborhood eatery was co-founded by Johnny Rivera and his wife, Renee, with help from executive chef Carmine Lopez, to be a safe place where friends, family, and loved ones can join together and bond over a common love for food. Focused on shareable plates, Wolf in the Woods specializes in eclectic snacks and tapas.
We know that a menu can be overwhelming at times to read. So, to help you out, here's what we would suggest ordering at Wolf in the Woods:
Yellowtail aqua chile: Raw yellowtail, avocado, serrano peppers, shallot, micro cilantro, watermelon radish, and wildflowers, drizzled with olive oil
Seared ahi escabeche: Piquillo pepper, green olives, fresh ginger, capers, sherry vinegar, and chives
Jamon iberico de bellota tostas: Three-year acorn-fed Spanish ham, fresh tomato puree, fresh garlic, and olive oil
Duck and the three sisters: Maple Leaf Farm's duck breast, squash, green pole beans, sweet corn puree, rioja shallot jus, and mustard frill
Search for California travel jobs.
San Francisco, California
Image from sftravel.com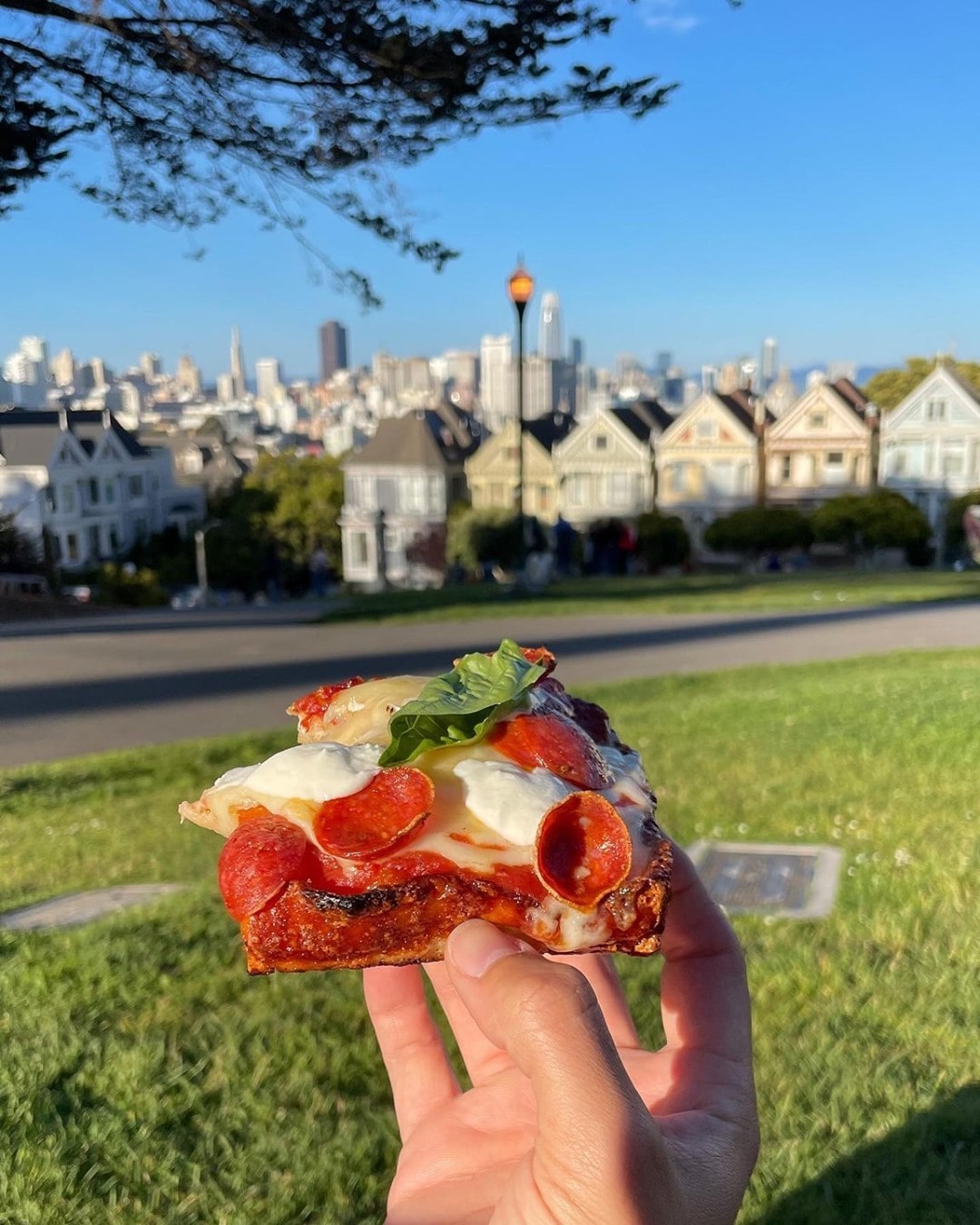 Have you ever found yourself relying on Siri for where to go for a good, hearty meal? Same. Thankfully, we're here now to help guide you on your foodie adventures. As you live your best travel life, make the most of it and eat your way through the Bay Area—home to the fresh seafood of Fisherman's Wharf, classic pasta dishes of Little Italy, rich flavors of Chinatown, and more. No matter what you're craving, we guarantee you'll find it in San Francisco.
Lucca Delicatessen
Price: $$
Yelp review: 4 stars
Offers takeout and delivery
There's something about an intricately and freshly prepared sandwich that hits the spot almost every time. Except when that sub is from Lucca Deli, then it'll hit the spot 100% of the time without fail. That's because Lucca Deli's sandwiches aren't your average sammies. No, in fact, they're quite the opposite.
Image from the Lucca Delicatessen Facebook page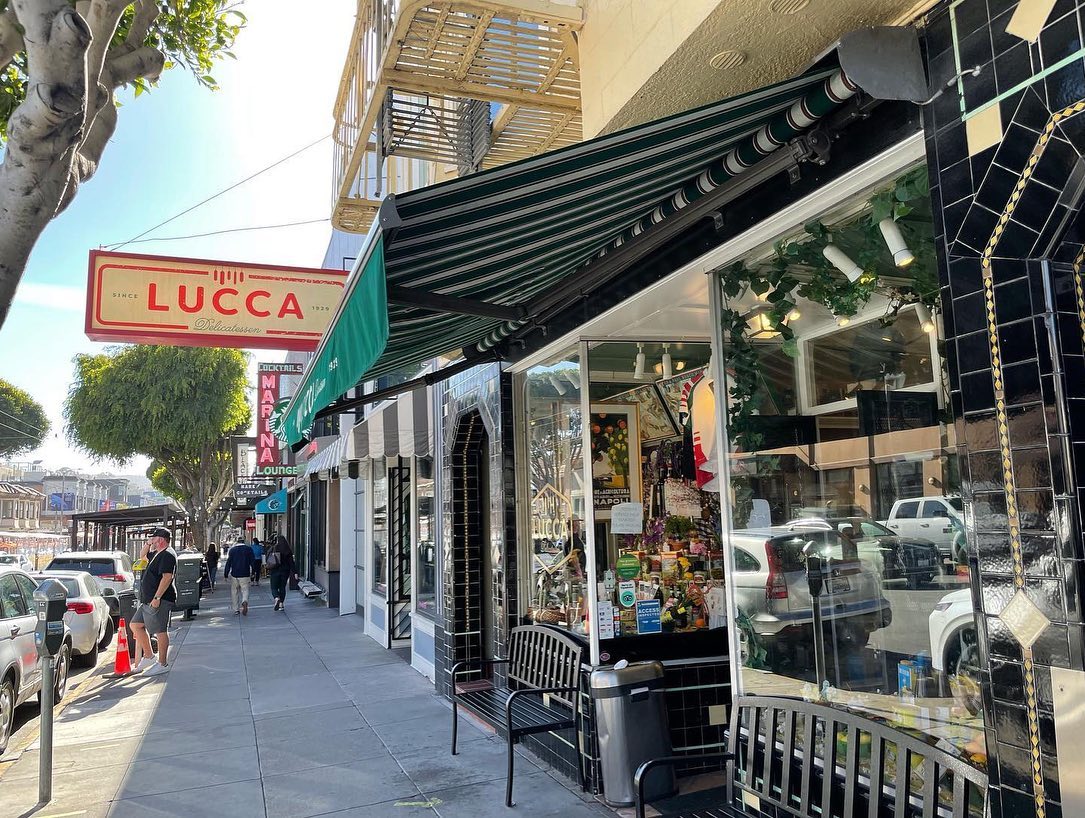 The year 1929 was a big one for the U.S. Not only was it the start of the Great Depression, but it also happens to be the same year that Lucca Deli came into existence. Mike Bosco, chef Maggiore Colona, and Italo Cencini opened this signature sandwich shop to share their love for fresh deli meats and cheeses with the rest of the community. And man, did they.
In the late-50s, Mike's son, Ed Bosco, took over Lucca Deli operations. Nowadays, you'll find his kids, Paul and Linda, beautifully maintaining the family-owned store.
Since its inception, Lucca Deli has showcased cold cuts hanging from the ceiling and wheels of cheeses aging before your eyes on the same rack that's used today. Overflowing with history and family, Lucca Deli has been dubbed "the tastiest little deli in the world!"
Sam Wo Restaurant
Price: $
Yelp review: 4 stars
Offers takeout and delivery
Vegetarian options
What better way to live like a local than to eat like one? Treat yo'self to one of Chinatown's most beloved eateries, Sam Wo Restaurant. After a tumultuous close in 2012, Sam Wo reopened in 2015 at a new location, but with the same menu items and colorful flavors that the Bay Area had come to know and love.
Image from the Sam Wo Restaurant Facebook page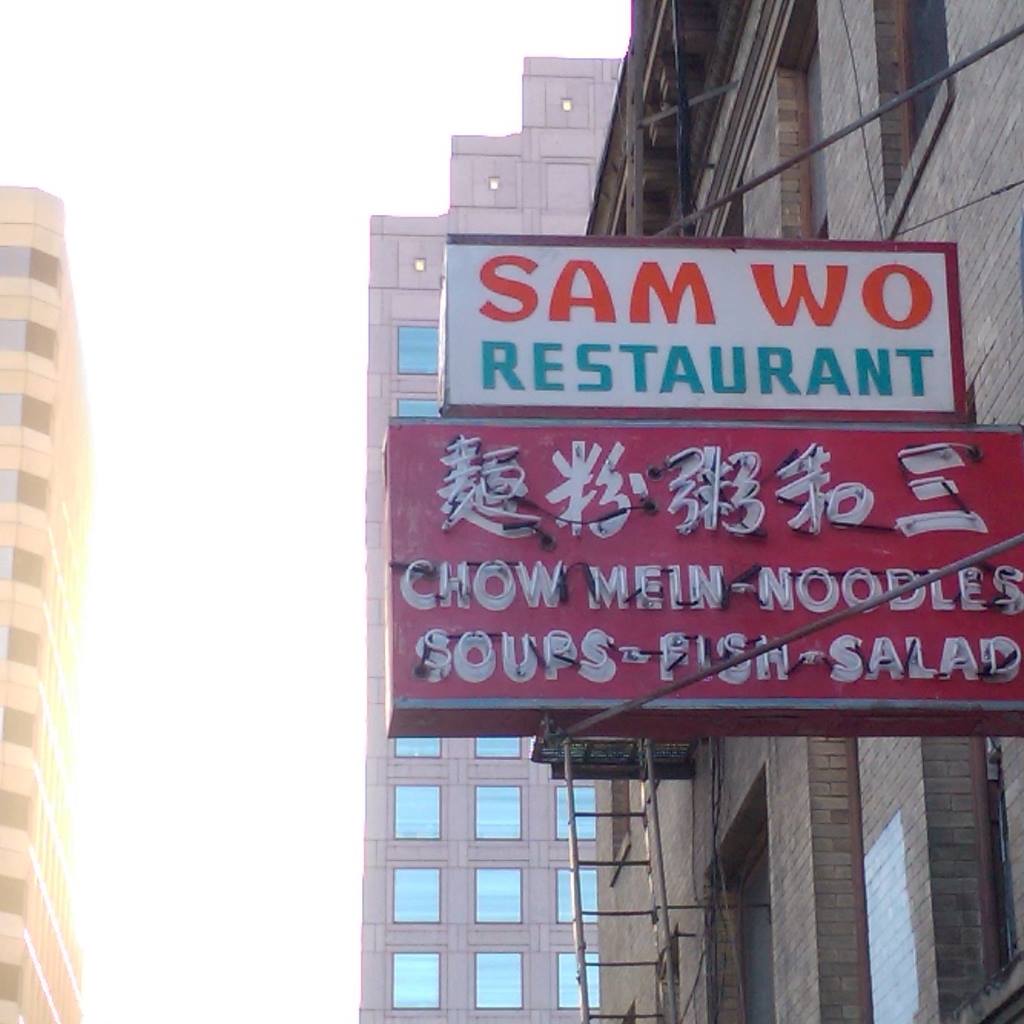 Sam Wo Restaurant originally opened after the 1906 earthquake, which might just make it the "oldest Chinese restaurants in America." Either way, this Chinatown gem has made waves and impressed both the locals and the tourists. Although the restaurant remains co-owned by long-time Sam Wo chef, David Ho, along with Steven Lee and Jonathan Leong, the reopening came an entirely new staff to help take the Sam Wo vision to the next step.
Grab a bite from this Cantonese-inspired eatery and see what the hype is all about. From fish jook and barbecue rice rolls, the Sam Wo menu is robust and full of delicious finds for all foodies, including vegetarians. Whether you're living like a local or enjoying your time as a tourist, there's something for you from Sam Wo Restaurant.
Akiko's Restaurant
Price: $$$
Yelp review: 4 stars
Takes reservations
Offers takeout and delivery
Vegetarian options
We're not usually ones to tell you what to do, but when it comes to the Bay Area, you would be remiss if you didn't try the freshest sushi in town. Wondering where you can find that? Akiko's Restaurant, of course.
Image from the Akiko's Restaurant Facebook page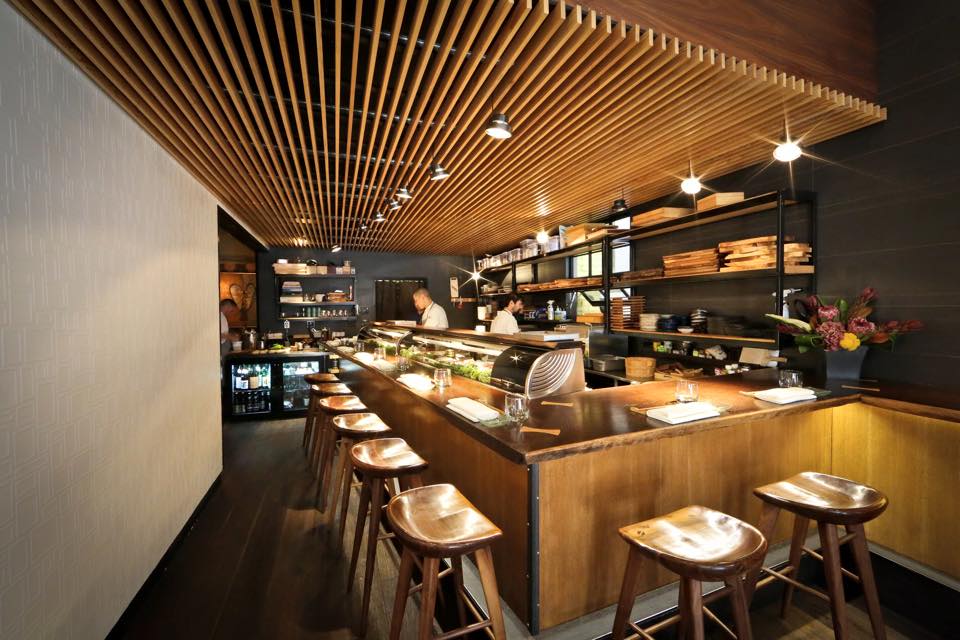 Located in downtown San Francisco, this upscale sushi restaurant is within walking distance from the Financial District, Union Square, Chinatown, and SOMA, making it the perfect destination for busy, in-demand professionals like yourself. When you have a break, you can quickly walk down to the restaurant and enjoy a refreshing meal.
Take a seat at the sushi bar for, arguably, the best seat in the house and watch firsthand as the chef/owner, Ray Lee, prepares your order from a combination of remarkable and fresh ingredients. In fact, Akiko's prides itself on using the finest quality and freshest catch of the day to take their commitment to sustainable, organic, local products to the next level.
With decades of experience, Chef Ray uses his innovative culinary techniques to wow diners from across the country. When he's finished working his magic on your meal, the finished product is not only exquisite, but also tasty AF. While you're here, try ordering a tekka roll—made with maguro, scallion, avocado, shiso, and sesame. If that's not what you have a hankering for, then consider madai suimono: Grilled sea bream, winter melon, somen noodles, and savory sea bream consummé. Truly, you're bound to hit the jackpot no matter what you order from this traditional-contemporary sushi shop.
Search for California travel jobs.
Maui, Hawaii
Image from gohawaii.com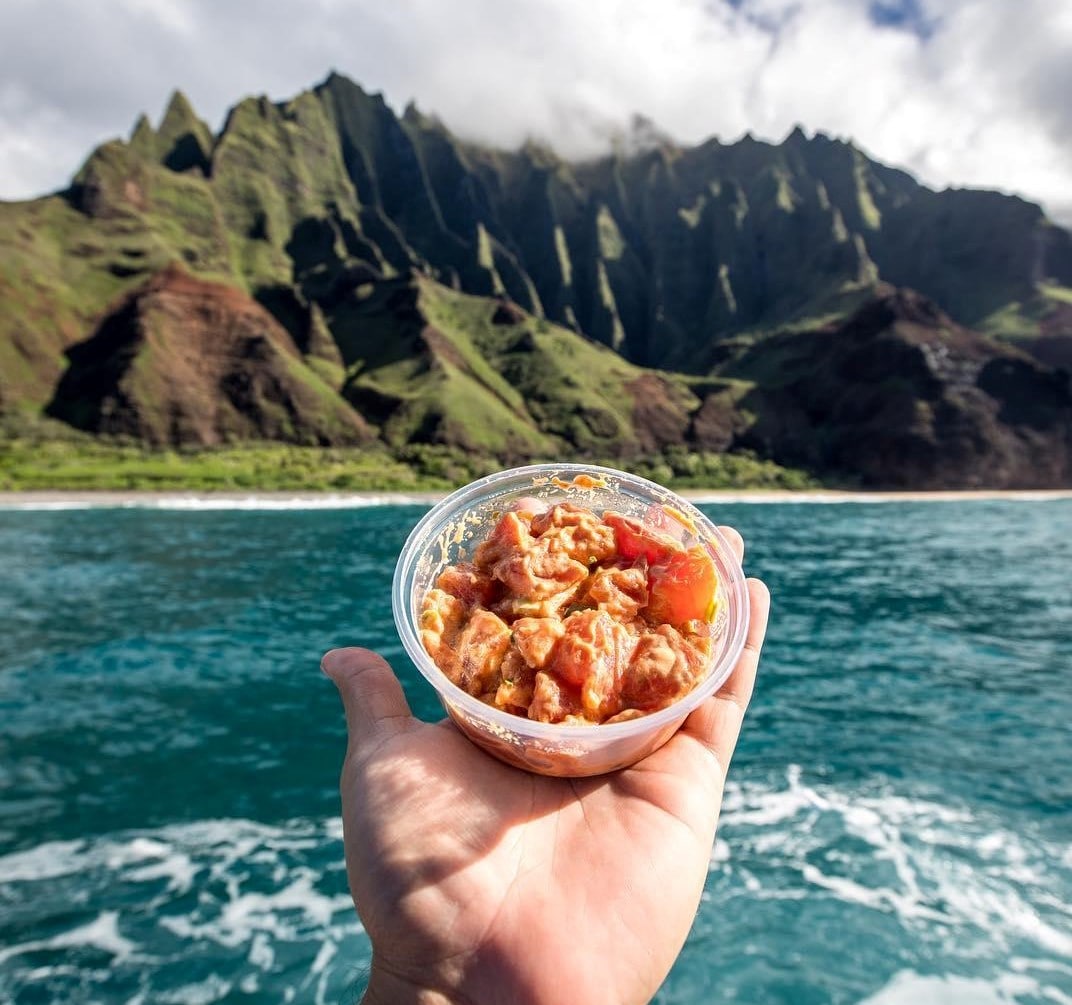 If you're anything like me, then you probably don't need much convincing to pack your bags and whisk off to Maui. If you do need a little extra push, that's okay, too! Perhaps these scrumptious eateries can help persuade you to join the sunny side, if that's your vibe, that is.
Star Noodle
Price: $$
Yelp review: 4 stars
Takes reservations (and you're going to need one)
Offers takeout
Vegan options
Vegetarian options
Have you ever seen "Top Chef"? (If you haven't, it's streaming on Hulu, and it's a good one). Anyway, Sheldon Simeon competed in the 10th season and stole the hearts of Americans everywhere with his one-of-a-kind culinary skills. Today, although you won't find him behind the kitchen (anymore), you can still taste Chef Sheldon's very own creations at Star Noodle.
Image from the Star Noodle Facebook page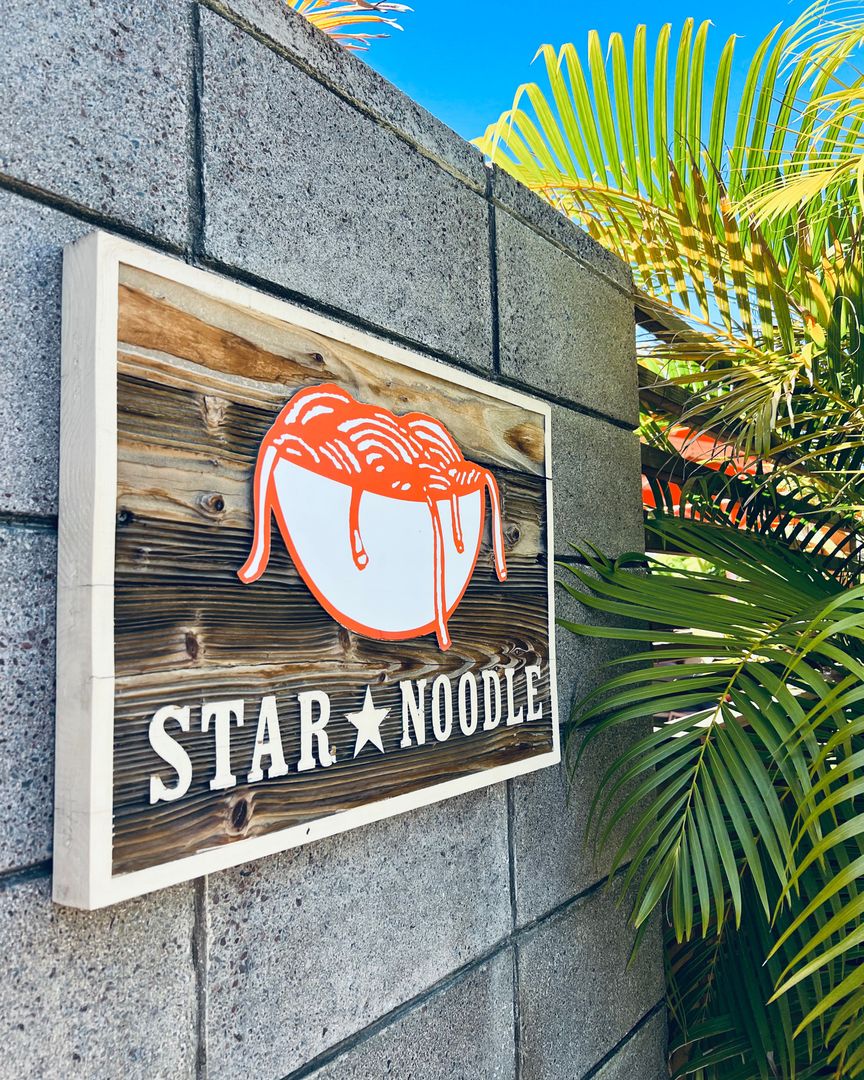 Born and raised in Hilo, Hawaii, Chef Sheldon learned to appreciate the delicate and unique stylings of Hawaiian cooking from a young age. It helped that both of his parents had an innate passion and talent for it, themselves, so Chef Sheldon had lots of practice in the kitchen under his belt before he went from Hilo High to the Culinary Institute of the Pacific to an internship at Walt Disney World to Maui Culinary Academy to Executive Chef at Star Noodle to a coveted "Top Chef" fan fave. Try saying all of that five times fast.
While he may not ~officially~ be on the Star Noodle payroll anymore, it's no secret Chef Sheldon made waves for the restaurant with his "crowd-pleasing Hawaii-style recipes" that remain today. Like the fiddlehead fern salad, which is decked out with a local delicacy—crunchy, earthy polohe ferns—or the hapa ramen that's made with extra smoky broth rendered from pigs roasted whole in the traditional Hawaiian īmu (aka an underground oven) from the lū'au next door. And that's just the beginning of the delicious menu of Star Noodle.
Moku Roots
Price: $$
Yelp review: 4.5 stars
Offers takeout and delivery
Vegan options
Vegetarian options
BFFs, Alexa Caskey and Erica Gale, knew they were onto something when they first had the idea to open a farm-to-table restaurant in Lahaina, but they had no idea their foodie vision would come to life. And with such success. Ladies and gentlemen, introducing Maui's one and only zero-waste vegetarian and vegan eatery, Moku Roots.
Image from the Moku Roots website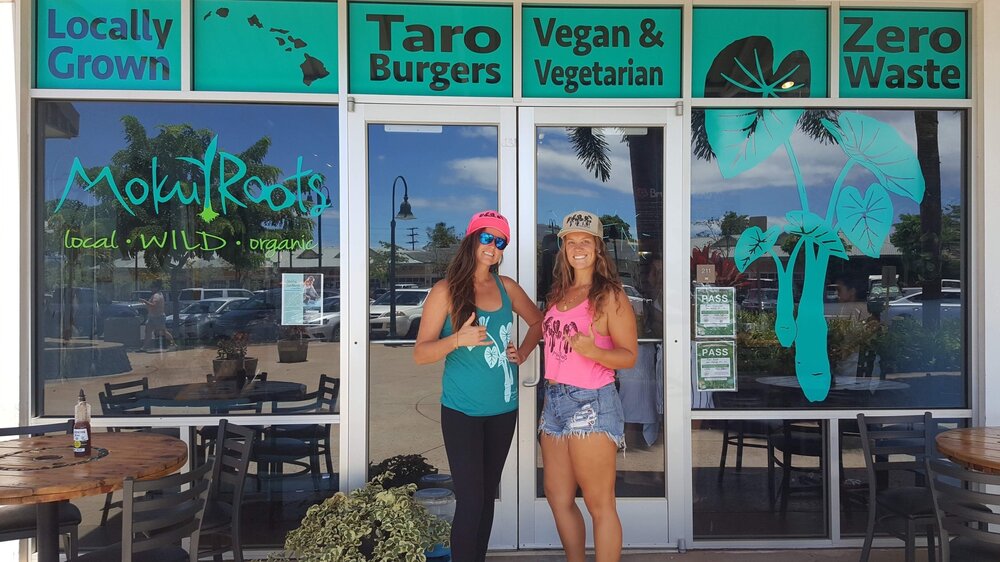 This award-winning restaurant has been on the block since 2018 and, like a fine wine, just keeps getting better with age. While you're on the island, head to Moku Roots for healthy, locally grown plant-based wraps, sandwiches, bowls, salads, and then some.
The fact that Moku Roots boasts a predominantly vegan/vegetarian menu is pretty dang cool, but it's not the most impressive quality of this eatery. No, what really makes this foodie sanctuary special is its commitment to reducing environmental waste. It's this core value that led besties and owners of Moku Roots, Alexa and Erica, to swaddle sandwiches in ti leaves tied with banana-fiber twine, use refillable mason jars for beverages, serve orders in eco-friendly containers, and harvest their own ingredients from their nearby farm, Mala 'Akala. Moku Roots takes the idea of "reduce, reuse, recycle" to an entirely new level.
Even if you're the biggest meat-eater in the history of ever, there's no doubt you'll find something you love from the menu of Moku Roots. Need suggestions? Say no more! Try the Moku Roots version of a classic Rueben sandwich—made with brined eggplant, sauerkraut, and vegan cheese melted on rye bread. If that's not really your thing, go with the kabocha kale salad. The cardamom vinaigrette dressing is *chef's kiss*.
Papa'aina
Price: $$
Yelp review: 4.5 stars
Offers takeout
Vegan options
Vegetarian options
As it turns out, Chef Sheldon isn't the only "Top Chef" competitor from Hawaii—meet Chef Lee Anne Wong. Chef Lee Anne competed in the very first season of "Top Chef," where she showed the world how insanely talented (and cool) she is. Today, you can find this legendary chef cooking up a storm at Papa'aina in Maui.
Image from the Papa'aina Instagram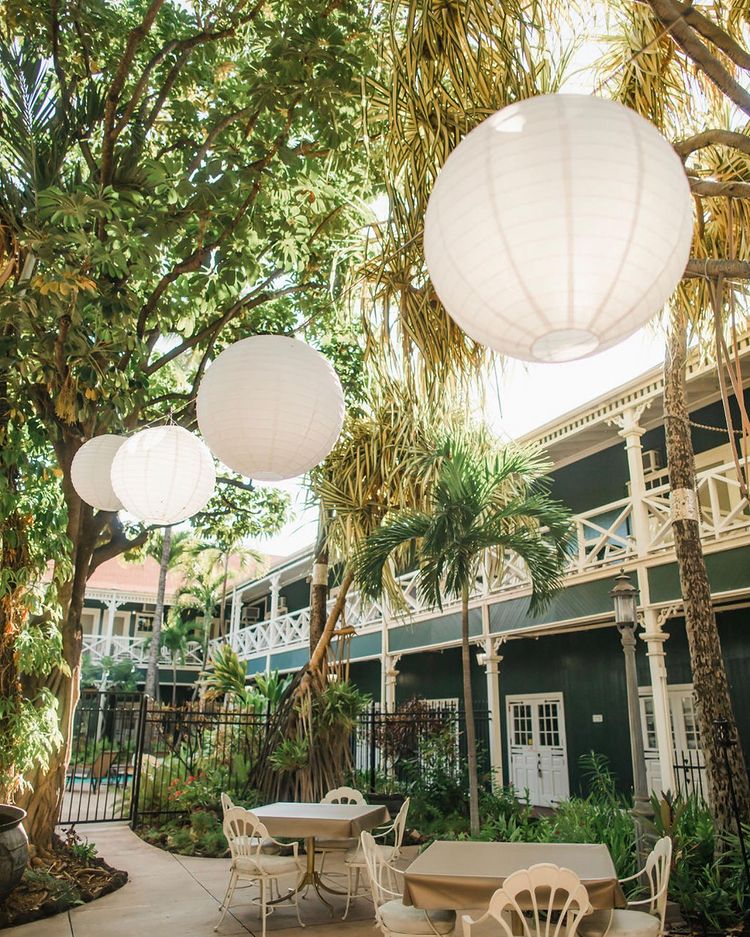 Located inside of one of Hawaii's oldest hotels, the Pioneer Inn, Papa'aina welcomes both hotel guests and the general public in for an unforgettable breakfast, brunch, or lunch experience.
And not just ~any~ brunch—Hawaii-style brunch. What does that mean? It means you can expect your traditional idea of brunch, but with a tropical twist. For instance, Papa'aina serves a fish benedict on sourdough muffins with miso-mustard hollandaise sauce and striped marlin that was reeled in fresh across the street. According to Eater, the breakfast ramen is a "warm-your-soul" bowl of noodles, poached organic egg, and of course, bacon. No matter what fits your fancy at this beloved brunch spot, you can't go wrong. And you're guaranteed to find a drink from the bar that goes perfectly with your order!
Search for Hawaii travel jobs.
Like what you're reading? You may also like: The Best Food Trucks to Fuel Your Travel Job
Honolulu, Hawaii
Image from gohawaii.com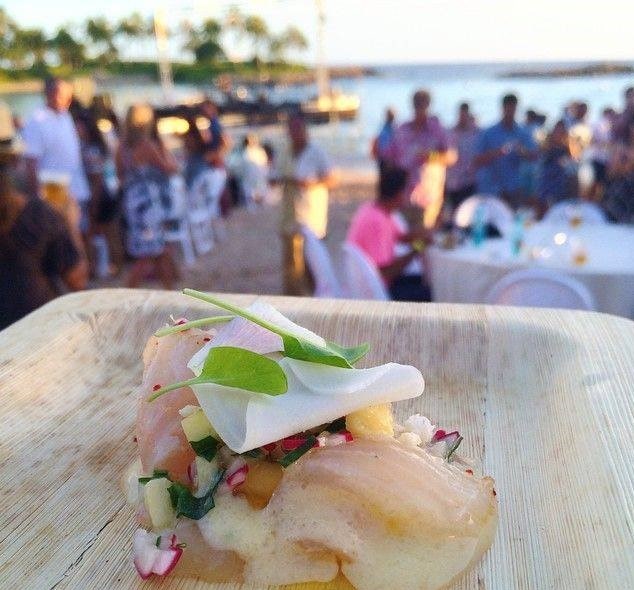 If you venture to Hawaii for a travel assignment, then you'll find there's many things to do…other than work your medical magic. I think it goes without saying that there's the beach (and a lot of it). And then there's the adrenaline-inducing activities like cliff jumping and swimming with sharks. But, in my humble opinion, the best things to do on your days off all include—you guessed it—food.
Waiahole Poi Factory
Price: $$
Yelp review: 4.5 stars
Offers takeout
Vegetarian options
Did you know poi is a staple dish in Hawaii? Fun fact! Poi is made from starchy vegetables like breadfruit, taro, or plantain that have been baked and pounded into a creamy paste. And when it comes to this traditional Hawaiian meal, no one does it better than Waiahole Poi Factory.
Image from the Waiahole Poi Factory Facebook page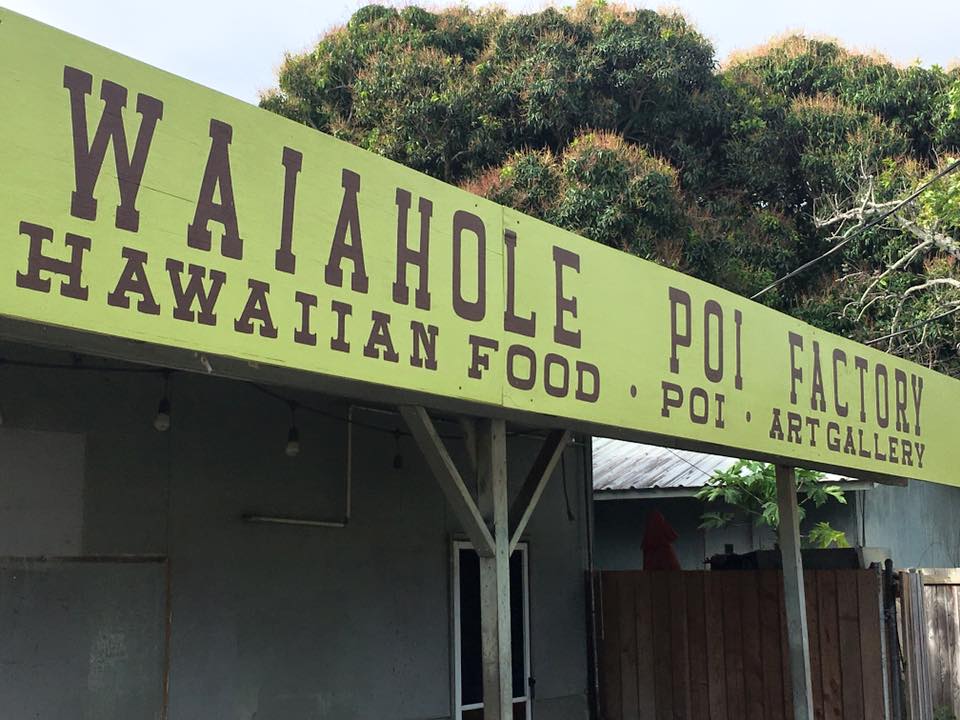 Waiahole Poi Factory lives within a historic building that's been producing piquant poi since 1905, although there was a short stint of time in the 70s where the poi factory was paused and revitalized as an art gallery until the 1980s. Now, more than 115 years later, Waiahole is back and better than ever, serving mouthwatering poi dishes, while still displaying local artisan work, and hosting live music events. Talk about giving the people what they want.
What sets this poi factory apart from others is the dedication and passion that goes into each individual hand-smashed meal. Waiahole Poi Factory lives by the motto "Hanai ike ai hanai ike aloha," which loosely translates to "To nourish with food, to nourish with love." And they live up to the mantra by focusing solely on traditional Hawaiian ingredients that are sourced by local farmers.
Once you're here, you won't want to leave until you've devoured every last bite of your meal. Waiahole Poi Factory is one of the only places on the island where you can find fresh pa'I'ai—cooked taro pounded with a lava rock pestle on a long wooden board into a mochi-adjacent consistency. But between you and me, you're going to want to order the kanaka nui plate, which is a hearty combination of pretty much everything on the menu. Why choose when you can have it all, right?
Helena's Hawaiian Food
Price: $$
Yelp review: 4.5 stars
Offers takeout and delivery
Vegetarian options
Picture this: The year is 1946. The U.S. and E.U. had just won World War II. Frank Sinatra and Perry Como delight the radio. And Helena's Hawaiian Food opened its doors for business. In short, 1946 was a big year for us all.
Image from the Helena's Hawaiian Food Instagram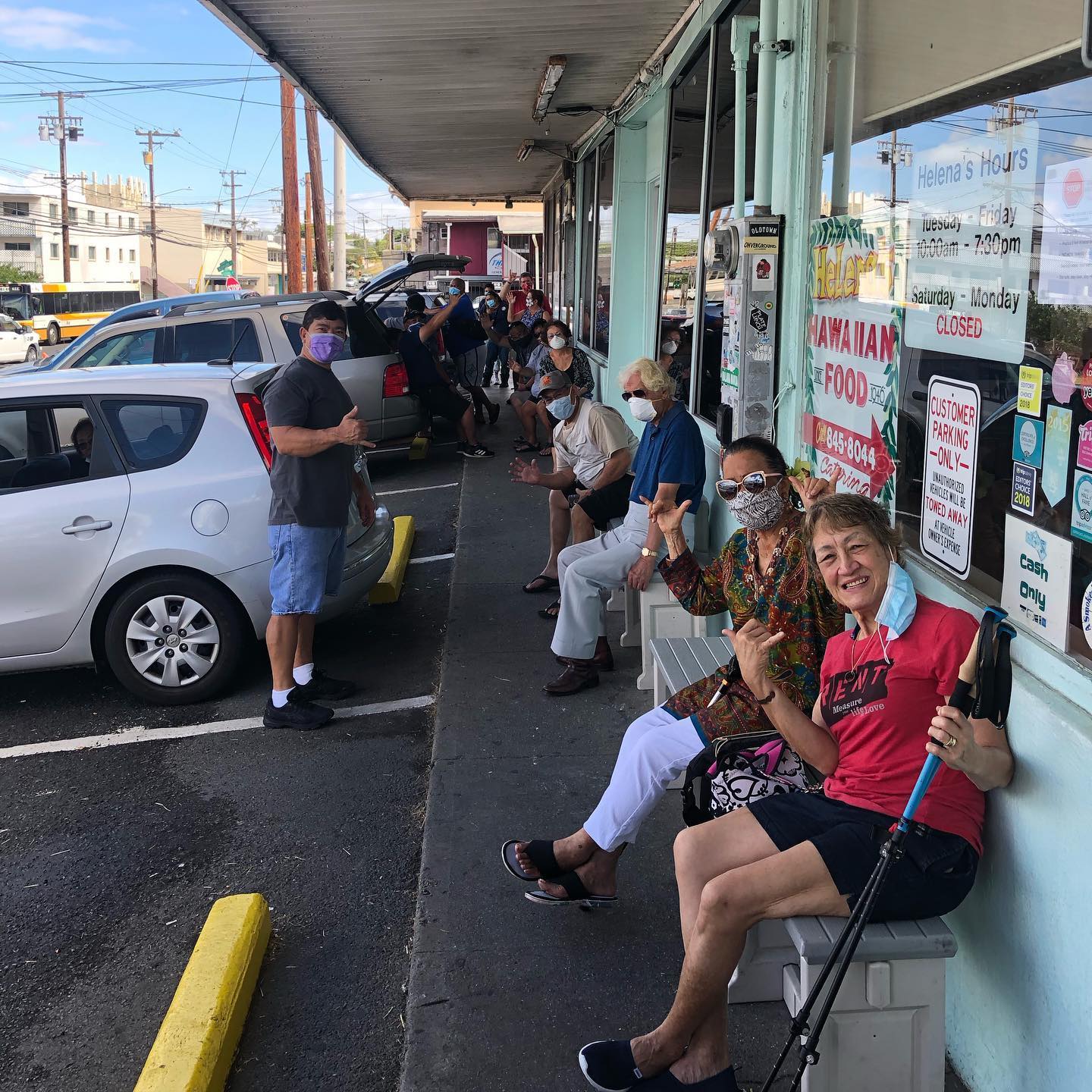 You could say Helen Chock set the tone for Hawaiian cuisine back in the day. And you could certainly call her a pioneer of her time when women weren't encouraged to take charge in the ways she did. What started as a way to serve the community turned into a successful restaurant business known as Helena's Hawaiian Food. Flash-forward more than six decades and Helena's has held onto its reputation as a humble family business, now owned and operated by Helen's grandson, even though they're a James Beard America's Classics award winner (not to brag).
As a first-time Helena's diner, you may be thrown off by the multiple menus broken out by alphabetical order with menus A through D. Pro tip: Start with D and work your way backwards. Menu D gives you a little bit of everything: Kalua pig, lomi salmon, pipikaula (air-dried, juicy short ribs, quick-fried for crunch), and squid lū'au (a savory octopus dish with taro leaves and coconut milk), along with your side choice of poi or rice. You can thank us later.
Ethel's Grill
Price: $$ (cash only)
Yelp review: 4.5 stars
Offers takeout
Vegetarian options
If you have an affinity for Japanese, Okinawan, Mexican, and Hawaiian cuisine, then Ethel's Grill is a must for you. Although you won't find a real-life Ethel here, you will find an eclectic variety of ethnically diverse delectables.
Image from the Ethel's Grill Instagram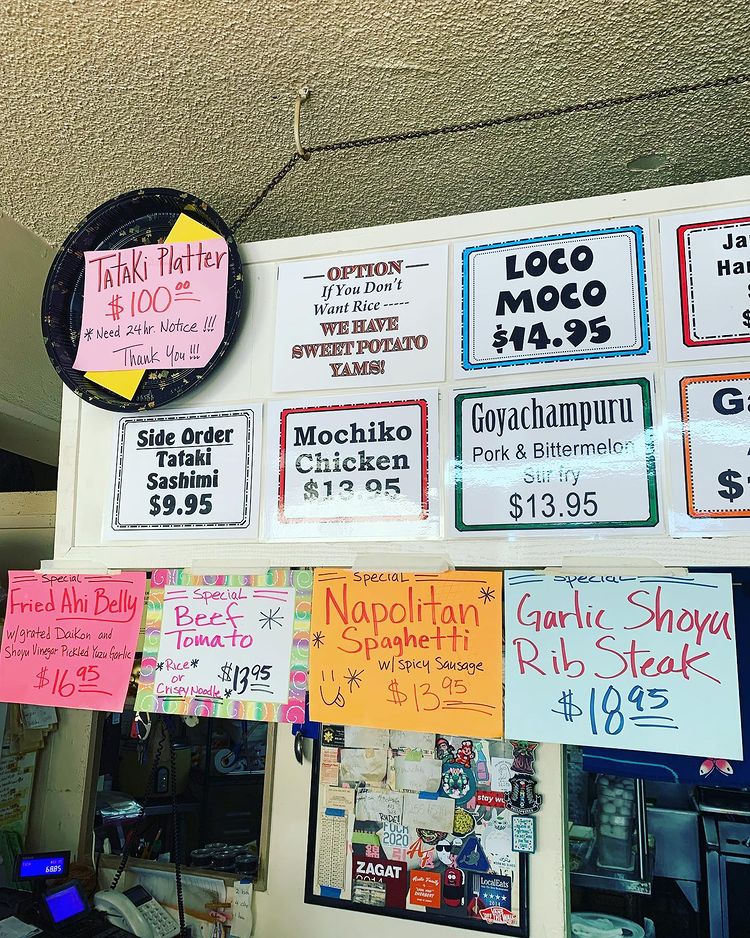 In 1978, the restaurant was bought out by Ryoko and Yoichi Ishii. When Ryoko and Yoichi took over Ethel's operations in the late-70s, the idea was to bridge together the community over a common love and appreciation for food. While Ryoko and Yoichi are still active in the business, daily operations are run by their daughter and son-in-law, who keep the tradition of celebrating their diverse heritage and local culture alive and well.
And more than 40 years later, we're happy to report this mission was a success. The major difference between today's Ethel's and Ethel's back in the day is the menu. The modern-day Ethel's focuses on cultural comfort food that would lift anyone's spirits. And no, we're not exaggerating.
In a mood funk? Order the seared ahi sashimi and get ready for a party in your mouth. The soy-marinated garlic chips that garnish the finished dish is a longtime favorite and one that's sure to make you forget about your worries. You may have 99 problems, but hunger won't be one!
Search for Hawaii travel jobs.
Denali, Alaska
Image from Alaska.org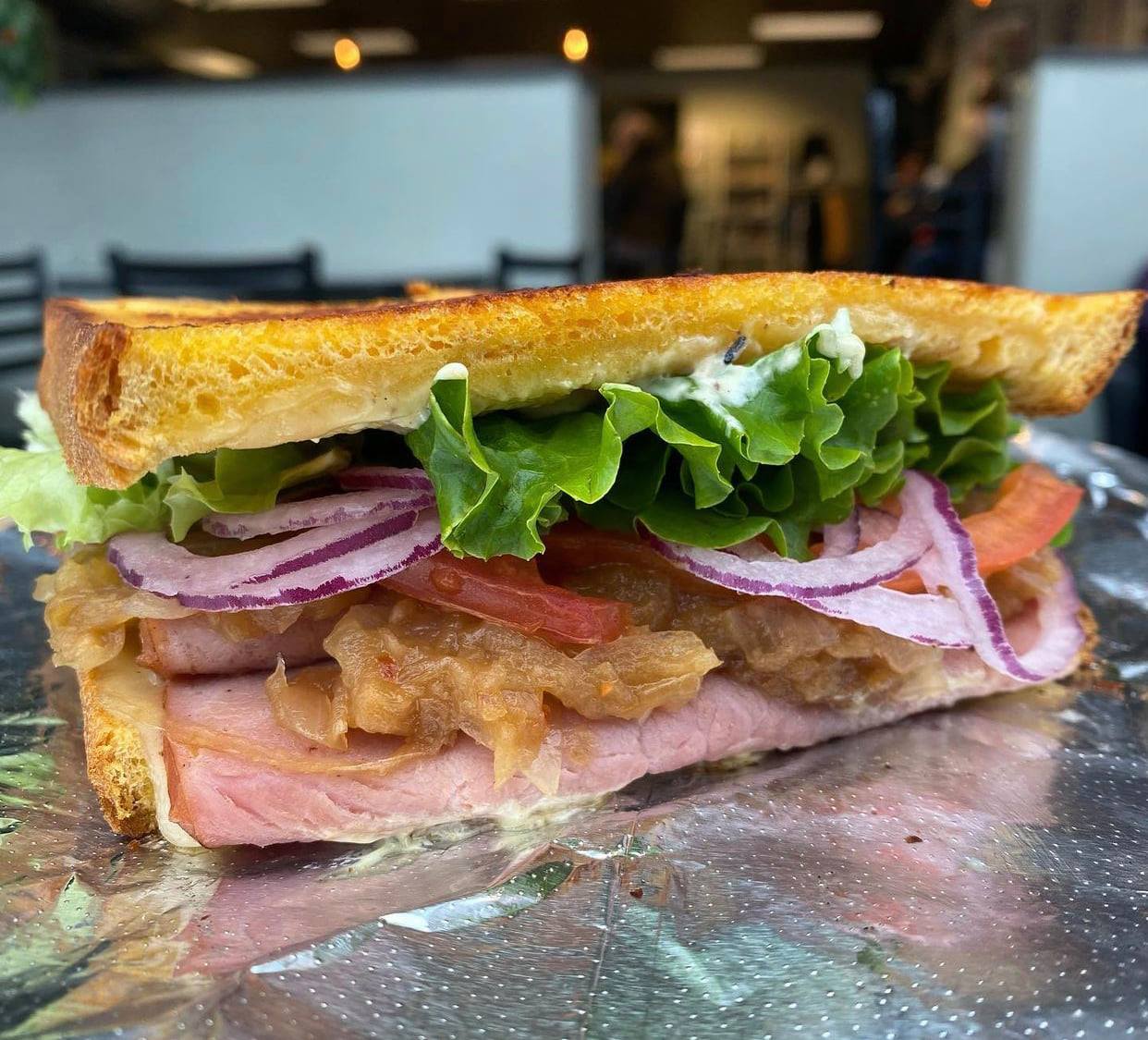 In the summer, Alaska shines bright with the midnight sun and when winter rolls around, the night sky dances with stars and constellations that may not be visible from anywhere else. But no matter the season or time of day, you can always find something tasty to eat in Alaska.
Moose-AKa's
Price: $$
Yelp review: 5 stars
Takes reservations
Vegan options
Vegetarian options
Great news: You no longer have to travel across the globe to experience the joys of Eastern European cuisine. Nope. Instead of a pricey (and long) international plane ride, consider a travel job in Denali, and get a taste of Eastern Europe from one of the city's most adored restaurants, Moose-AKa's.
Image from the Moose-AKa's Facebook page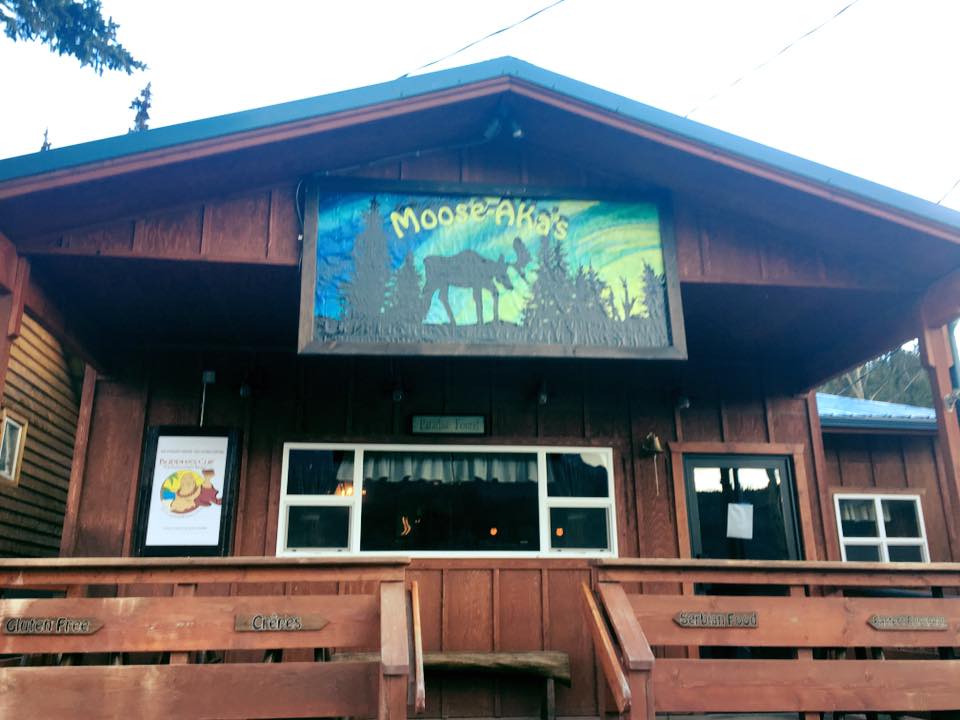 Who doesn't need a night out on the town every now and then? And when the feeling strikes, you need someplace safe, fun, cozy, and with food. Well, it just so happens that Moose-AKa's checks all those boxes. In fact, this Eastern European restaurant was voted the "coziest restaurant in Alaska" by FoodAndWine.com.
But it wasn't always that way. I mean, in 2015, Moose-AKa's didn't have a permanent home. What started as a food truck more than five years ago has evolved into a successful restaurant and business, thanks to owner Michael-Jared Waring and his partner in crime, the Moose-AKa's manager, Maja. Once the Moose-AKa's team gained the love and support of the locals, it wasn't long before they upgraded to a brick-and-mortar location, just two years after debuting their food truck. Talk about a win!
If you're wondering what sets Moose-AKa's apart from other Alaskan eateries, here it is: Moose-AKa's is the only restaurant in the Denali area that offers diverse fare outside of steak, seafood, pizza, and burgers. Instead, what you'll find is a Balkan-style tavern decked out in Yugolavian antiques and art, full of happy customers.
New to the European food game? Here's what to order:
Mekice: Vegan fry bread served with a roasted red pepper spread and cream cheese
Meze platter: Appetizer sampler platter with mekice, schnitzel fingers, crepadilla, and Russian salad
Moussaka: Baked layered dish of potatoes, ground beef, and bacon, topped with an eggwash of egg, milk, and sour cream
Kardjordjeva schnitzel: Pork tenderloin, pounded thin, filled with ham and mozzarella, served with garlic butter mashed potatoes and asparagus
229 Parks Restaurant and Tavern
Price: $$$
Yelp review: 4.5 stars
Takes reservations
Offers takeout
"Top Chef" strikes again with this Alaskan eatery. Created and operated by season 15 "Top Chef" contestant, Chef Laura Cole, 229 Parks Restaurant and Tavern has cured thousands of cases of hanger since its opening in 2005.
Image from the 229 Parks Facebook page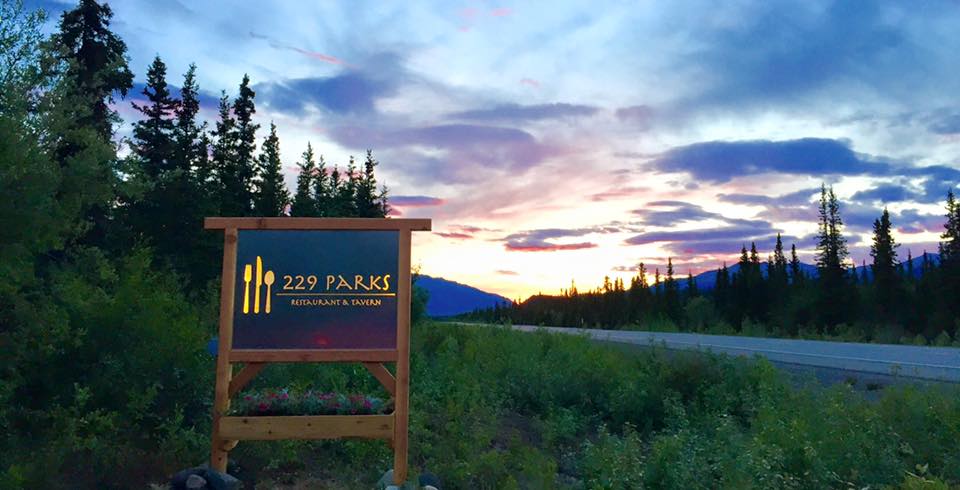 Chef Laura Cole was born and raised in Detroit, but it wasn't until she made her move to Alaska that she discovered her passion for food, and even more, cooking. After working in the kitchen of a Denali National Park lodge, Chef Laura decided to pursue a professional culinary career, and thank Heavens she did, because now we can eat—I mean, reap—the benefits.
With a helping hand from her hubby, Chef Laura has not only made a name for herself across Alaska, but she's made a name for her restaurant, as well. Part of the reason is because of Chef Laura's insane talents, but the other part is because she's worked so hard to build long-lasting relationships with local Alaskan farmers, ranchers, fishermen/women, beekeepers, and artisans. It's this whole-hearted commitment to locally grown, freshly harvested ingredients that makes 229 Parks a hot spot for foodies.
When you arrive at this Top Chef's restaurant, you'll instantly be blown away by the ever changing menu, which keeps up with seasonal ingredients. Although the menu depends on what ingredients are currently in season and accessible in Alaska, there's no way you won't leave full and happy after a visit at 229 Parks. To cure hanger side effects, try the reindeer liver plate—made with lingonberry shrub, beets, and grain mustard between sourdough bread—we guarantee you've never tasted anything like it.
Prospectors Pizzeria & Alehouse
Price: $$
Yelp review: 4 stars
Offers takeout
Vegan options
Vegetarian options
When you think of Alaska, pizza may not be the first thing that comes to mind. And if that's the case, then you clearly haven't been to Prospectors Pizzeria & Alehouse. Feels like we should change that, no?
Image from the Prospectors Pizzeria Facebook page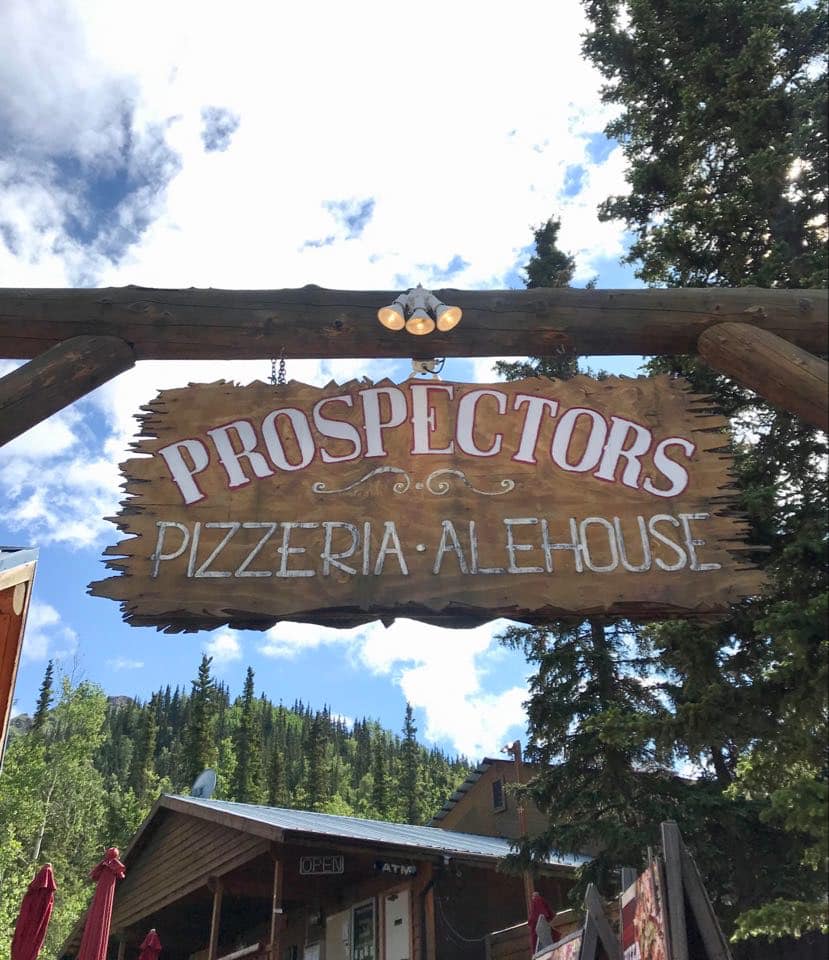 To me, there are two kinds of pizza: Good pizza and ~great~ pizza. In your opinion, what makes a great pizza? Is it the gooeyness of the melted cheese, the sweet and savory sauce, or the limitless topping options? Whatever that looks like to you, you're sure to find it at Prospector's Pizza.
Now, this Alaskan pizzeria isn't your run-of-the-mill neighborhood pizza parlor. Rather, it's the best spot in town for pizza and beer enthusiasts. Each pizza pie is hand-tossed and cooked in a wood-stone fired pizza oven and topped with special Alaskan ingredients like elk, salmon, reindeer, and Alaskan king crab. I bet you won't find those flavors at your local Pizza Hut.
And what's the perfect pair to a gourmet slice of pizza? A nice, tall, cold glass of your favorite beer. Here at Prospectors Pizza, you can take your pick from 50+ beers on tap, including Alaskan brews, as well as world-renowned brands. There's a reason this pizzeria is repeatedly voted as a "Great American Beer Bar" by CraftBeer.com—come find out for yourself.
Search for Alaska travel jobs.
Food is a universal language. When language fails to bridge barriers, there's always food to act as the glue that holds humanity together. As a professional medical traveler, you have the opportunity to experience different flavors with every travel destination. So, put yourself out there, and see what cultures, communities, and heritages outside of your own have to offer. We'd bet money that it's a lot.
Follow your stomach across the entire United States by checking out our other travel guides by restaurant in the Med Traveler's Foodie Guide series!