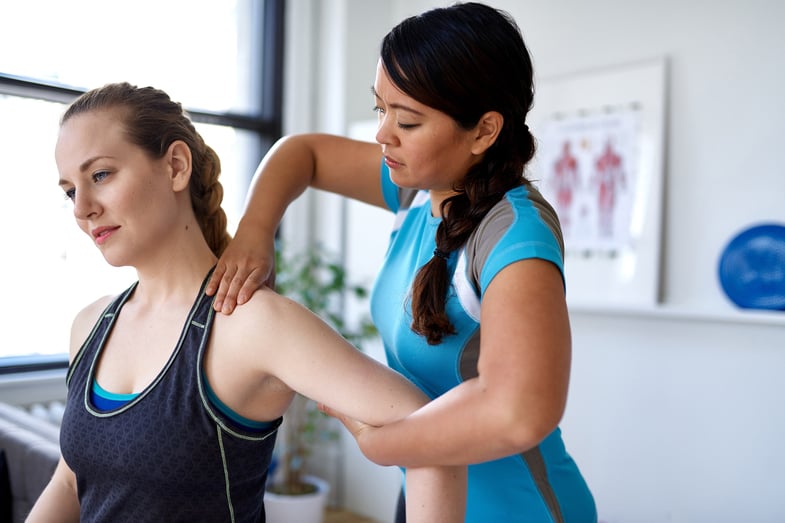 There is a lot to consider when taking the dive into therapy travel. Like: When can you start traveling as a new therapy grad? Why a travel career? What are the benefits of being a therapy traveler? And then some. We get it, there's a lot of unknowns at first. So, we're here to clear things up.
10 Most Asked Questions About Being a Travel Therapist with Alyssa Peters, OT
To help us answer some of the most asked questions about being a travel therapist, we turned to a therapy expert, Alyssa Peters, OT. But first, let's explore the variety of therapy jobs out there. Find out more below!
Travel therapy careers
If you're interested in a travel therapy career, but you're not sure which therapy specialty fits your fancy, then you've come to the right place. We're here to help.
ICYMI, the past couple years have brought tremendous growth to the therapy field. In fact, between 2020 and 2030, the U.S. Bureau of Labor Statistics predicts the job outlook for physical therapists to increase by 21%, occupational therapists to grow by 17%, and speech-language therapists to expand by 29%. This growth is partly because the population continues to age (as people do), and as we get older, more people experience health conditions that require services from therapy professionals like physical therapists, occupational therapists, and speech-language pathologists. So now, let's play a fun game of therapy-themed jeopardy!
What is physical therapy (PT)?
Hey, Alexa. Play "Let's Get Physical" by Olivia Newton-John. Now, with the right soundtrack in place, we're ready to get into PT.
Physical therapists are like the Beyoncés of movement, meaning they're movement pros. For example, let's say you slipped and fell on a patch of ice and broke your arm—ouch! PTs are the medical professionals who would help you get your arm back up and moving like normal. What they do is focus on a patient's movement to improve, maintain, and promote optimal physical function, wellness, and fitness.
In addition to PTs, there are PTAs or physical therapy assistants. These therapy professionals work alongside PTs to help determine and implement therapeutic remedies with patients in need.
Average salary of a Physical Therapists: $95,620
No. years of higher education: 3 to 8 years
Job outlook:👍👍
What is occupational therapy (OT)?
If PTs are movement experts, then OTs are their supportive best friend. Occupational therapists, themselves, are also movement gurus. However, the difference is OTs focus on helping patients regain and improve mobility to help them independently achieve everyday tasks. For instance, still pretending you slipped, fell, and broke your arm, while PTs assist you in getting your arm mobile, OTs help you in relearning tasks that you might perform on the daily like brushing your teeth, getting dressed, or eating.
Like PTs, OTs also have assistants called occupational therapy assistants (COTAs) that offer a helping hand with patient care. Similar to PTAs, COTAs work under OTs to brainstorm the best care plan for each individual patient.
Average salary of Occupational Therapists: $85,570
No. years of higher education: 3 to 4 years
Job outlook:👍
What is speech-language pathology (SLP)?
While PTs and OTs are movement masters, speech-language pathologists are communication specialists who work with patients on their speech, language, cognitive-communication, and oral/swallowing skills. These experts work with patients of all ages to enhance verbal and written expressions, language processing skills, auditory and reading comprehension, memory, and more.
Average salary of Speech-Language Pathologists: $79,060
No. years of higher education: 3 to 4 years
Job outlook:👍👍
Like what you're reading? You may also like: A Detailed Look into an OT Career Path with Rachel Annino, OT
Q&A with Fusion traveler, Alyssa Peters, OT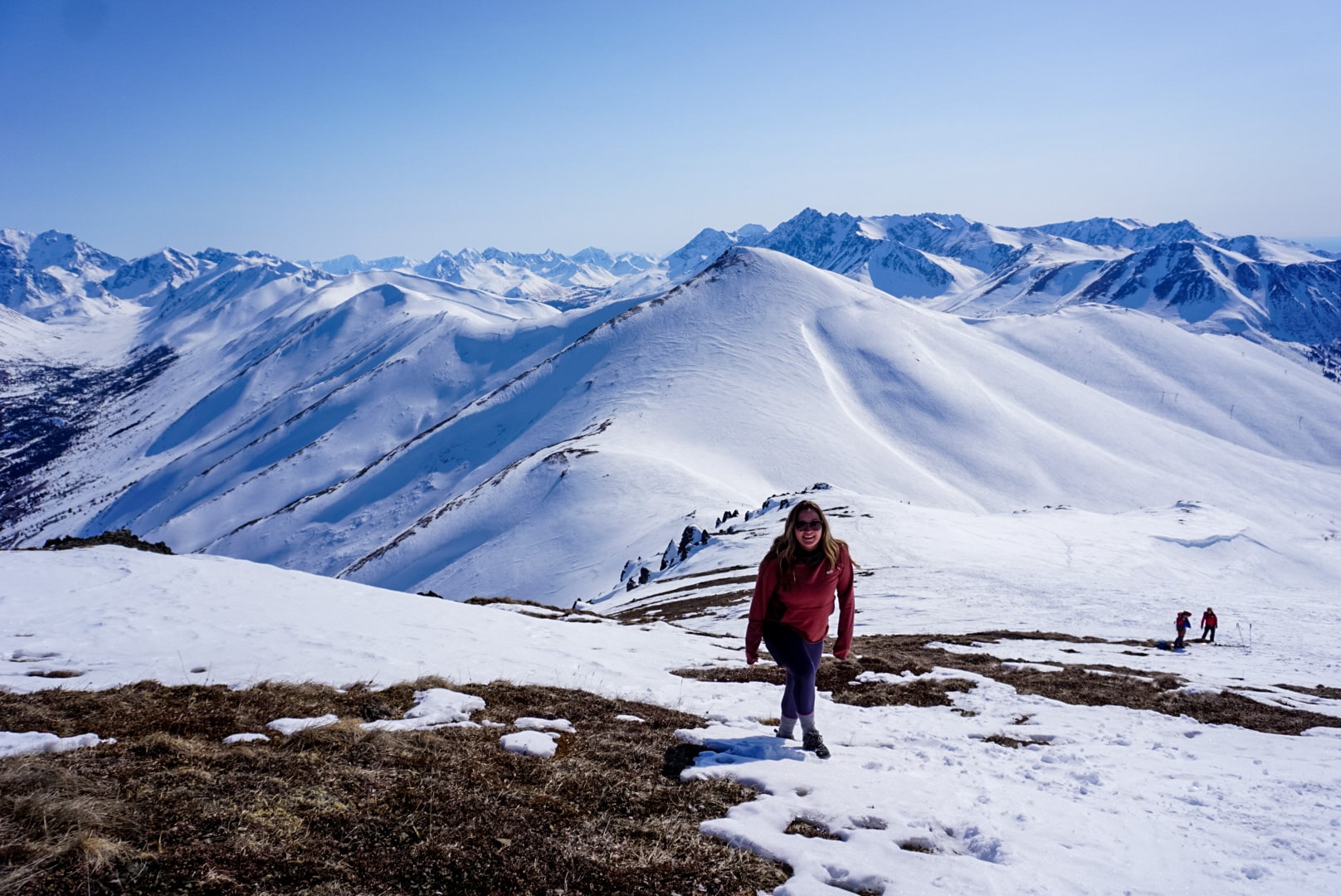 So, you have an understanding of what your options are when it comes to a career as a therapy traveler. Now for the moment you've been waiting for, find out answers to the most asked questions about being a travel therapist with Fusion traveler, Alyssa Peters, OT.
Megan Bebout: Hi, Alyssa! Thanks for chatting with us and answering some of the most asked questions about travel therapy. To get started, can you tell us when you can start traveling as a new therapy grad?
Alyssa Peters: Hello! Yes, thanks for having me. In general, you don't need experience to start traveling in therapy. In fact, you can get started right after you graduate!
For me, I began traveling about 6 months following passing the National Board for Certification in Occupational Therapy (NBCOT). My first assignment was in acute care where I collectively had about eight months of prior experience between my level II placement as a student and working at a local hospital pro re nata (PRN), or as needed. With the guidance from my recruiter, she prepared me for not only what to expect during a travel OT position interview, but also that it was important to screen the facility to determine if it would be a comfortable fit for my first assignment. Shortly after the interview, I accepted my first travel assignment where I felt I would be set up for success. I was able to determine that the facility was a similar acuity level hospital, used the same documentation system, had supportive managers, and that prior travelers had positive experiences there!
As intimidating as it can be, the "leap of faith" into the travel world was well worth it in my opinion (even as a newbie OT). You must be able to cope with the initial newbie nerves, be a team player, adapt efficiently, be knowledgeable of resources you may need to prepare for a new setting, and lastly, be prepared to learn and grow on the go!
MB: Love that! It sounds like you were well prepared for your first travel therapy assignment. So, going back to the beginning, why did you choose occupational therapy?
AP: While in my senior year of high school, I was introduced to the OT profession and after some job shadowing, I knew it would make a great fit for my future. The dynamic, client-centered, holistic, and creative problem solver profession of OT allows me to be creative while using evidence-based practice to have a positive impact on individuals and families to improve their quality of life.
There are no better feelings in my professional career than the little moments of humanity you can show your patient by assisting them with grooming, feeding, or basic activities of daily living following a complicated and prolonged hospitalization. I would say my preference for OT settings are acute, long-term acute care, and skilled nursing facilities that involve the geriatric population, neurological conditions, and trauma. I have a soft spot for my geriatric patients, but one day I would like to specialize (maybe own a business) in pelvic floor and lactation consulting to support women in their new role as mothers in the post-partum journey as it pertains within the OT scope.

MB: WOW, that's amazing! I had no idea you could do so much within OT. Knowing that, why would you recommend OT to other prospective therapists?
AP: I would recommend OT because the possibilities are endless! You can work in any state in more settings than you can think of! Every day is truly its own adventure. There is no better feeling than watching someone progress towards functional outcomes using everyday occupations as therapeutic interventions. And it can be fun, I try to balance work and play; there are sessions where we strictly working on morning routines and some where we are dancing, cooking, and decorating the gym for the holidays.
I also very much enjoy the collaboration with interdisciplinary teams such as physicians, nursing, respiratory, speech, and of course physical therapy (PT). It makes coming to work that much better when you work with a supportive and communicative team.
MB: That makes sense. It feels good to have options and it sounds like you have exactly that in occupational therapy. So, now we know why you chose OT, but why did you decide to start traveling?
AP: I decided to start traveling shortly after graduating because of the lack of full-time positions available in my hometown. With the many alluring benefits of travel OT/nursing and the support from my husband, Mitch, I began seeking more information on travel. I only knew one other OT who did travel, so I spoke with her about it, but mostly found my own information from Nomadicare. In fact, they matched me with Fusion Medical Staffing after I completed a quiz that matches health care workers interested in travel with recruiter companies based off certain criteria. But I also got information from blogs, Facebook groups, and by speaking with recruiters.
Mitch had been working as a registered nurse (RN) in the intensive-care unit (ICU) for more than two years at the time, which is typically recommended for RN positions. Luckily for us, there are positions that accept new grad therapists. We were both very intrigued by traveler pay packages, time off between contracts, and seeing the country in our little renovated travel trailer. Having easily convinced Mitch to leave his staff job and join me in travel as an OT/RN duo, the next thing we did was buy a little 24-foot travel trailer to make moving every three-ish months feel more like home and the rest was history! Since then, we have lived in the trailer for two+ years and been on seven different assignments.
MB: Dang! That's incredible and truly, I'm jealous. After traveling for two years, what's your favorite destination you've been to so far?
AP: Everywhere I have traveled, people have always asked me this question and my answer used to be something like, "Each place we have lived has been so unique." I can honestly say, although some workplaces have been better than others, everywhere we have lived for work has been a great location. We choose location over pay because our priority is getting outdoors and seeing parts of the country that interest us most. We will do diligent research on the area based off the outdoor adventures, brewery scene, restaurants, safety, and proximity of where we can live from our trailer within reasonable commutes.
When we find a job and location that are a great fit for us, we typically will extend our contract by a few more months just to reduce travel fatigue and burnout. After living here for five months (contract plus extension), I can confidently answer...Alaska has been our favorite location. Our Alaska assignments have paid off BIG: We love our jobs (both at the same facility for the first time), we have a healthy work/life balance, we've made great friends, and we're busy doing crazy fun Alaskan adventures just about every weekend. There are just endless amounts of outdoor activities to do here and a beauty you that cannot compare to anywhere else.
MB: Man, we've heard such amazing things about Alaska. It's definitely one on my bucket list! Since you started traveling, would you say it's enhanced your therapy career?
AP: Travel has absolutely enhanced my career—I am a more confident clinician in my ability to adapt and overcome, I have had the opportunity to work with patients from many cultural backgrounds, various settings, documentation systems, and have had more co-workers than I can count that have taught me different "tricks-of-the-trade." I have avoided burnout and feel inspired for future career options.
I do not believe I would be the therapist I am today if I took a full-time staff job just after graduation and stayed in one spot or facility. I now have a different outlook on the settings I prefer, populations, and what I value in a workplace. I also have experience to bring to the table when I eventually want to settle down for a staff job to help negotiate higher pay!
MB: That makes sense! Travel offers entirely new experiences, like you said, and it's hard to get that in one place. So, one of the biggest questions we get about travel therapy is in regards to travel pay. Can you tell us how travel pay packages work?
AP: Typically, my recruiter will pitch me my "take home pay," which is what will be deposited weekly into my bank account following tax deductions, etc. We have a tax-home back in Michigan (we just bought our first condo and I recommend consulting a travel tax professional for more information on tax-homes), therefore we qualify for travel tax-free stipends that include meals and housing. Fusion also compensates for licensure, travel cost, and qualifying continuing education, which helps a ton!
MB: Sounds like travel therapy is a great way to earn a pretty penny! Other than that, what are the benefits of being a travel therapist?
AP: Freedom, financial payoff, and flexibility are my top three benefits of being a travel therapist. I like to say that I prefer a "live-to-work and not work-to-live" type of lifestyle. Travel therapy has allowed me to live a nomadic lifestyle where I feel fulfilled in all sorts of ways! The freedom of travel means the ability to work all over the country and also includes the freedom in changing settings when you want or need to, depending on the job market and what Fusion has available!
Our recruiters from Fusion have also been respectful of our wishes when it comes to coordinating a duo in our states of interest. Due to the financial pay offs travel has allotted me, I get the opportunity to be flexible with work and take about one month off between assignments to either visit home or an amazing road trip to help avoid burnout. I typically only work about nine months out of the year while still being able to afford vacations, pay for our wedding, invest in outdoor gear (our favorite), buy a condo, and so much more, thanks to the higher paychecks while traveling.
MB: Absolutely love that! What are the challenges of being a professional traveler?
AP: As a traveler, you need to be accepting of not being able to have a "plan" for the immediate future. Towards the end of a contract, that can be difficult for me because there are so many unknowns until that official next contract is signed. I think it is the excitement and nervousness of all the possible opportunities that makes me spiral into overthinking the potential of finding both OT and RN jobs within commuting distances (travel duo difficulties), researching towns, facilities, and places to live in our travel trailer. I usually have to remind myself that everything always works out and comes together as it always has in the past.
Travelers will experience first day nerves with each contract, but they are normal and do get so much easier. It also can be common to get homesick, but I believe having a travel partner makes things easier. We have been lucky to have friends and family out to visit quite often, as well as prioritizing visiting home between about every other contract.
Lastly, I would say travel fatigue is real. Moving every few months is not for the faint of heart. We combat this by extending contracts where we are happy and having the travel trailer helps make us feel at home wherever we are, as well as making packing up to move significantly easier.
MB: Those do sound like challenges, for sure. But you make great points about how you combat those hurdles! To end, can you share some advice you would give to first-time travelers getting ready to embark on their first ever assignment?
AP: I would say be a sponge, a team player, and adaptable. The first day, no matter first assignment or ninth, is a whirlwind (yes it does get easier—or you just get more comfortable outside of your comfort zone). Be prepared by having important emails easily accessible, bring a pen and paper, of course, don't forget your badge, and arrive early. It is normal to be nervous, but remember that you are a competent therapist with the tools and resources to be the best clinician that you can be for your patients! I recommend being flexible and forgiving to yourself. It will take a minute to adjust to the new workflow and protocols of each facility, but within no time I hope you feel welcomed and ready to go as a travel therapist. And then, before you know it, you're hooked and start the cycle again of looking for your next adventure!
MB: And thus, the circle of travel therapy continues! Thank you so much for joining us and answering some of these major questions, Alyssa. We appreciate you!
AP: Of course, happy to help!
The world of travel therapy can be a whirlwind, especially when you're just getting started. Thankfully, we have professional travelers like Alyssa here to help guide us in our travel journeys. For more information about travel therapy, visit the Fusion Medical Staffing travelers page and find out how you can join the Fusion family!